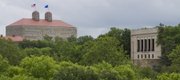 Subscribe to the email edition of Heard on the Hill and we'll deliver you the latest KU news and notes every weekday at noon.
Your daily dose of news, notes and links from around Kansas University.
• Even though it's spring break, Heard on the Hill is rolling on. Well, at least until I go on vacation later this week.
We'll start today with news that former ambassador to the United Nations John Bolton will deliver the School of Business' 2012 Vickers Lecture.
He will present "Threats to American Security: A Closer Look at the World's Trouble Spots" at 7 p.m. Wednesday, April 4, at the Lied Center.
Bolton drew some controversy when he was appointed by President George W. Bush in a recess appointment after Democratic senators opposed the nomination, citing Bolton's views on the UN.
This lecture is no stranger to conservative figures who occasionally inspire political debate — Kris Kobach delivered the lecture last year.
Other speakers have included former vice presidential candidate Jack Kemp and current Chief Justice of the United States John Roberts.
This lecture inspired a sound off question last year (before we began putting them up on the front page every day, drawing lots of comments) about how the selection process works.
The school works with the Vickers family each year to determine a speaker, a spokeswoman told me at the time.
• A new policy I spotted would set five years as the maximum amount of time that can pass between a doctoral candidate's passage of an oral comprehensive exam and a dissertation defense.
"If a student took the oral comprehensive examination more than 5 years prior to the dissertation defense, a re-evaluation of the student's candidacy status is necessary," the policy states. "Re-evaluation of the student's candidacy status can include retaking the comprehensive oral examination."
I admit I don't know too much about why this policy was instituted, but I just noticed its existence this week.
• Here's a fun interview I found with comedian Rob Riggle, who attended KU.
He was asked about, among other things, the KU-Missouri rivalry "potentially ending."
"Potentially?" he said, laughing. "It's ending. 120 years. You're gonna walk away from 120 years? That's your call. I'm not happy about it. Original Big 6, Big 8, Big 12 member. Just going to walk away. That's the last time we play 'em."
Also, he'd rather have a Chiefs Super Bowl appearance than KU in the Final Four, and he likes Gates barbecue.
• Celebrate spring break by sending me tips for Heard on the Hill at ahyland@ljworld.com. All the cool kids are doing it.
Copyright 2018 The Lawrence Journal-World. All rights reserved. This material may not be published, broadcast, rewritten or redistributed. We strive to uphold our values for every story published.