Two women, costumed in shiny belts and armed with plastic swords, begin a belly dance. Around a pie.
But something stops them.
Photo Gallery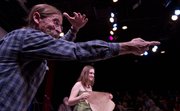 Pi Day Celebration
The Alferd Packer Memorial String Band hosts the first Pi Day celebration. An irrational event.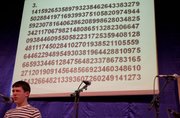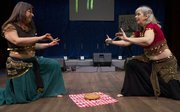 "Forget to carry the two?" an audience member asks.
One of the dancers tells the crowd the sound system's playing the wrong song.
It's OK, one of the organizers says — that was just the "irrational" part of the performance.
Linda Tilton and Julie Kingsbury were two of 10 performers who took part in a quirky, science-and-math-loving celebration of Pi Day on Wednesday night at Theatre Lawrence, 1501 N.H. The night included mathematically minded skits and songs, a pie-baking contest (19 entered; three bakers got honored with aprons), a pi-reciting contest and its fair share of puns.
"I think we discovered something new on 'pie-riodic' table," emcee Matt Kirby said after a pie-eating intermission.
The night was a celebration of the irrational number, rounded to two decimal places as 3.14, which is critical for finding the circumference of a circle. And it also not coincidentally happened to be the date. Kirby and other members of the Alferd Packer Memorial String Band organized the event, which they hope will become a new tradition. They're famous for performing in the post office on Tax Day, April 15, but chose another "made-up holiday" to commemorate this year as the tradition of up-to-the-last-minute-filing is largely over, given restricted office hours.
This event, which Kirby called their "negative third annual," also raised $385 for the Douglas County Public School District's annual science fair with a "nerdmobilia" auction.
Clad in a pi-emblazoned T-shirt, Tiffany Harkins won the contest to see who could remember the most digits by a mile — or 51 decimal places to be more precise. Turns out, she's a middle-school math teacher in Olathe and said her students would blow her performance away, some having memorized the number to some 200 decimal places.
"We all got really into it," she said of Pi Day.
In the spirit of science and geeky fun, other performers gave odes to Albert Einstein, NaCl (better known as salt), conductivity and the big, big universe.
Gwyneth Sigmon performed a flute solo from four notes that she described as "changing every time I play it and therefore kind of irrational." It runs in the family.
"My father is a computer engineer, so math was kind of like the running joke on that side of the family," she said. "Pie was a big part of my mother's side, too — you know, the round kind."
Copyright 2018 The Lawrence Journal-World. All rights reserved. This material may not be published, broadcast, rewritten or redistributed. We strive to uphold our values for every story published.