A structure fire was reported at Berry Plastics, 2330 Packer Road, about 7:12 p.m. Monday.
Firefighters observed smoke emitting from the roof of the structure when they arrived, said Lyle Schwartz, division chief for Lawrence-Douglas County Fire Medical. Schwartz said firefighters entered the building and extinguished the fire, which was around an injection mold machine and the roof above it. No one was injured. The cause is still being investigated.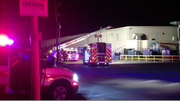 Copyright 2017 The Lawrence Journal-World. All rights reserved. This material may not be published, broadcast, rewritten or redistributed. We strive to uphold our values for every story published.