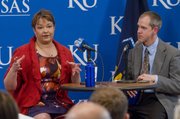 From offshore drilling to the Baker Wetlands, Environmental Protection Agency Administrator Lisa Jackson tackled some of the nation and state's most controversial environmental issues Monday afternoon.
"I'm here today because so much of what I do every day is really about your future, and you have the power to influence the direction we go," Jackson told the crowd of students and faculty that had gathered at Kansas University's Spooner Hall.
Jackson, the first African-American woman to head the federal environmental regulatory agency, told the audience that she came to her role of protector of the environment not by the Teddy Roosevelt ideal of preserving pristine open spaces. Instead, she said her concern was in the "brownside" of the environment and ways to curb pollution.
"I always tease people I don't sleep outside, but I do my job to make sure you can," Jackson said.
Jackson acknowledged the criticism the agency has fallen under in recent years from those who believe environmental regulation has "hobbled" the economy.
Jackson went on to defend her agency, saying it is consistent with American values to not let industries pollute water with raw sewage, to keep vehicles from emitting lead toxins, to limit the mercury pollution coming from power plants and to monitor the chemicals used in producing food.
"We won't back down from protecting our kids from mercury pollution, or making sure that our food is safe and our water is clean," Jackson said.
Jackson did address one controversial local issue, the building of the South Lawrence Trafficway through the Baker Wetlands south of Lawrence. The area has been marked as a sacred space for Native Americans. Jackson was asked what role the EPA played in recognizing spiritual places in the siting process.
Tribes are given special roles in the consultation process, she said.
"I think when you talk about tribes that for many, many decades now, they have felt as though they don't have the opportunity to move or be mobile, so their cultural sites are extremely important," Jackson said. "For those reasons, finding out what those issues are is what the law says we should do."
And, as someone who grew up in New Orleans, Jackson said she recognizes the importance that wetlands play in flood prevention.
"When we didn't have them to break the impact of Hurricane Katrina, we missed them tremendously," Jackson said.
Copyright 2018 The Lawrence Journal-World. All rights reserved. This material may not be published, broadcast, rewritten or redistributed. We strive to uphold our values for every story published.