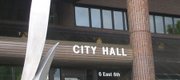 Subscribe to the email edition of Town Talk and we'll deliver you the latest city news and notes every weekday at noon.
News and notes from around town:
• There soon will be a new business in town for dog-lovers or just lovers of dog-inspired arts and crafts. Lucky Paws Bakery and Unique BARKtique will open in late April at 729 1/2 Mass. which is in the space above Francis Sporting Goods.
Raven Rajani will open up the multi-faceted business. Part of the business will be devoted to the baking and selling of homemade dog treats and biscuits.
"I adopted my first dog in 1990 and looked at the ingredients and decided they were just awful," said Rajani, who has been baking dog biscuits for her own animals ever since.
Rajani said all the biscuits are made from human-grade products, meaning most of the meats and other materials are the type you would find at your grocery store.
"You can eat them," Rajani said. "You definitely can." (I'll take her word for that. I ate a dog biscuit for this job once. When I wrote an article about Lawrence's Good Dog! Biscuit & Treats company, they also insisted on proving their biscuits were edible for humans.)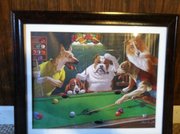 Rajani also places an emphasis on having several grain-free variety of treats, because she notes that dogs are mainly a meat-based type of creature. Rajani also will do custom baking, if you have a special treat in mind for your canine friend.
The other side of the business will be dog-inspired arts and crafts. Instead of having a boutique, Rajani will have a Barktique. The store will carry everything from unique dog collars to dog clothing to charms for the people to wear and dog-themed mosaics. (I assume they are for your house, but I guess you could hang them in the dog house.)
"It will just be really funky is the best way to describe it," Rajani said.
The idea of a Barktique had me pretty excited, but then Rajani deflated my spirits much like the dog who realizes he will never catch his tail. She informed me that the Barktique won't have any of the fine framed art of dogs playing poker or pool. As you can see from the photos to the side of this article, I'm a connoisseur. These two exquisite pieces were found by an art friend of mine in a quaint little shop also known as a Dumpster.
I made my best pitch to Rajani to add the genre, but I don't think it is going to happen. I think my wife got to her first. She probably bought a bunch of dog biscuits for my lunch too.
• Dogs and sidewalks go together. But city commissioners will have to decide whether the current tight economy means now is the time to cut back on the number of new sidewalks built in the city.
Commissioners at their Tuesday evening meeting will consider approving new plans for a residential development on about 15 acres of property just south and east of 25th Terrace and O'Connell Road. The property eventually will be developed with a mix of about 200 single-family homes and duplex units.
But the development group — which is led by Lawrence businessman Bill Newsome — is asking for a variance that requires sidewalks to be built on both sides of all streets of the development. Newsome is proposing to build sidewalks on just one side of each street of the development.
Newsome has told city leaders the development is designed to provide starter housing for the community. But the requirement to have sidewalks on both sides of the street will add at least another $1,000 per lot to the development.
"We are extraordinarily sensitive about costs because for this development to achieve the absorption necessary to work economically, it has to fit in the financial model of starter-priced housing," Newsome wrote in his request to the city. "Starter-priced housing is also critical to support the city's economic development efforts across the street at the Farmland site."
The city's planning staff is recommending approval of the variance. The city code has required all projects after 2006 to provide sidewalks on both sides of a new street. But staff members noted this project originally was approved prior to that code requirement. The project now needs a variance because many of the lot lines have had to be redrawn after Cornerstone Southern Baptist Church signed a contract to purchase about 8 acres of the original development to eventually build a new church.
Commissioners meet at 6:35 p.m. on Tuesday at City Hall.
• Another week, and another list of property sales that have occurred in Douglas County. Click here to see the list of land transfers as recorded by the Douglas County Register of Deeds for the week ending March 5.
There were a couple of commercial sales of note. It appears the shopping center next to Hy-Vee on Clinton Parkway has sold. The property originally was owned by Wichita-based R.D. Shopping Center LLC. But now the property has been sold to a group including James Hruska, Lori Toren and Lincoln-based Falgers Inc. That trio is the same group that formerly owned 2525 Iowa Street — where Discovery Furniture is located — before it sold the property to the furniture store in January.
It also appears that Capital City Bank has taken a much larger ownership interest in the Hobbs Taylor Lofts building in the 700 block of New Hampshire Street. The land transfers indicate the bank — which has its Lawrence headquarters on the ground floor of the building — now owns 718, 722 726 and 740 N.H. St., which I think would represent all the ground floor commercial space in the Hobbs Taylor building. The property previously was owned by 8th and New Hampshire LLC, which had Lawrence businessman Stephen Craig as its lead agent. Other than the bank, much of that ground floor space has been vacant. I'll check to see if there are any new plans in the works for the space.
Copyright 2018 The Lawrence Journal-World. All rights reserved. This material may not be published, broadcast, rewritten or redistributed. We strive to uphold our values for every story published.