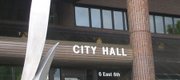 Subscribe to the email edition of Town Talk and we'll deliver you the latest city news and notes every weekday at noon.
News and notes from around town:
• New development appears to be on the way for the O'Connell Drive corridor, but no, it is not a new grocery store that so many people seem to ask about. Cornerstone Southern Baptist Church has signed a contract to purchase about 8 acres on the southeast corner of 25th Terrace and O'Connell Road. The church eventually plans to move from its location near Lawrence High School to the eastern edge of the city. If you are trying to figure out where 25th Terrace is, it is at the first roundabout on O'Connell south of 23rd Street.
"We're seeing some growth, but we're at the end of two dead-end streets and have no visibility," the Rev. Gary O'Flannagan said of the church's current location. "As a church we feel we're an east Lawrence church, so that is where we want to be."
A timeline for the church to start the project hasn't been set. Currently, the church is waiting for the property to be rezoned. Plans have been filed with City Hall to rezone a portion of the site from single-family residential to duplex residential, which is a zoning category that will allow a major church building.
Bill Newsome, a representative for the development group that owns the property, said there still will be about 60 acres of ground zoned for residential uses south of 25th Street Terrace.
"We're tickled to have them out there," Newsome said. "It is a real compatible use with the residential that is planned."
• Don't give up on the idea of a grocery store near the 23rd and O'Connell area. Newsome hasn't. He said he's still marketing the property as an ideal location for a grocery store, and/or another large retailer. Tractor Supply became the first tenant for the development about a year ago, and Newsome said inquiries about the project have started to increase.
"It is maybe not 2005 momentum, but there is some momentum," Newsome said.
In total, there's still about 200,000 square feet of retail space that can be developed near the 23rd and O'Connell area. That includes five outparcel lots that could be used for restaurants or smaller retailers.
The development group also owns ground on the west side of O'Connell Drive. That property is zoned for a mix of office development and multi-family development.
• When we recently reported on the plans for Burger King to shut down on 23rd Street to make way for a Natural Grocers, it brought up questions about whether a previously announced plan for Burger King to expand into northwest Lawrence was still underway. Indeed it is, city planners tell me. The company is in the final stages of approval for a new site just east of Sixth Street and Champion Lane. That's in the Bauer Farms development near Free State High, which has helped draw fast-food restaurants to the area because of its policy that allows some students to leave the grounds for lunch. The development already includes a Taco Bell and a SmashBurger. The Burger King, however, would be farther east and more toward the center of the development.
Final planning approval for the project is expected in the next two weeks. No official word on when the restaurant will break ground, but one city official told me the company seemed eager to get started.
• If your brain has a little free time, you might ask it to think about what type of services or improvements you would like to see from the Lawrence-Douglas County Fire & Medical department. Leaders in the department soon will start thinking about that in a larger way. City commissioners at their meeting tonight are scheduled to approve $13,050 for a consultant to facilitate a new strategic plan for the department. The department needs a new strategic plan as it goes through its accreditation renewal process that begins in 2012. At some point in time, community stakeholders likely will be asked to weigh in on the department as part of the strategic planning.
Commissioners are approving the consulting contract without taking bids. The proposed contractor is the Center for Public Safety Excellence, a non-profit organization that also is the parent company for the Commission on Fire Accreditation International, which is the organization that conducts the accreditation of the department.
• If old buildings interest you, the city is hosting an event on Thursday designed to spark interest in their preservation. The city's historic resources administrator will conduct a program that examines how preserving old structures can be a key part of a sustainable city. The event will begin at 5:30 p.m. Thursday at the Carnegie Library, Ninth and Vermont.
Copyright 2018 The Lawrence Journal-World. All rights reserved. This material may not be published, broadcast, rewritten or redistributed. We strive to uphold our values for every story published.