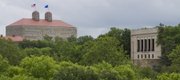 Subscribe to the email edition of Heard on the Hill and we'll deliver you the latest KU news and notes every weekday at noon.
Your daily dose of news, notes and links from around Kansas University.
• March is definitely here, and the KU basketball team will find out its position in the 68-team NCAA tournament bracket this weekend.
Each year around this time, there's no shortage of brackets floating around the Internet, either.
There's even this one that's been lighting up my social media (and sparking lively discussions among co-workers) devoted to the TV show The Wire.
One that I usually write about every year is released by Inside Higher Ed, called the Academic Progress Tournament.
KU, which has pretty strong graduation rates, typically does well. They made the final four last year, before losing to Butler.
Check back next week for updates there and all kinds of more brackets to come.
• Larry Martin, a KU professor and curator of vertebrate paleontology at the Biodiversity Institute, weighed in on this Associated Press story that shows off a really rather strange looking dinosaur.
It's much more birdlike than most dinosaurs I typically think of.
In fact, Martin argues that the "microraptors" that didn't get much more than 30 inches long were actually birds.
"To me a bird is an animal with an avian hand and wrist with primary flight feathers," said Martin, who was not involved in the research published Thursday in the journal Science. "By that definition microraptor is definitely a bird."
• Following up on a few items we reported on earlier, I heard word on Thursday that KU Student Senate committees had approved the $100,000 necessary for the Wescoe Beach renovation project I wrote about earlier this week. That still must be voted on by the full senate.
Also approved? A fee increase of about $15 per semester, to about $444 in required fees for students next year.
• Maybe I'll see if I can work up some kind of Heard on the Hill bracket for next week, but it'll only work if you keep sending in those tips to ahyland@ljworld.com.
Copyright 2018 The Lawrence Journal-World. All rights reserved. This material may not be published, broadcast, rewritten or redistributed. We strive to uphold our values for every story published.