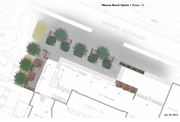 A popular central gathering spot on the Kansas University campus could get a face lift if KU's Student Senate gives its approval.
Libby Johnson, KU's student body president, is helping to gather support for a plan that would add lighting, seating and bigger, shadier trees to Wescoe Beach, the large concrete area between Wescoe Hall and Jayhawk Boulevard.
Today, Johnson said, the area is "mostly a sea of concrete with some potted plants in the middle."
Many KU students use the area as a place to relax between classes, and several student groups often set up tables to interact with the students walking by.
"It's something that a lot of students have talked to us about, and I think that it will create a significant change for students," Johnson said.
Two Student Senate committees were scheduled to consider on Wednesday night a measure that would contribute $100,000 to the project. The measure would still require approval from the full KU Student Senate.
Jack Martin, a KU spokesman, said an additional $100,000 for the project would be matched using private funds from the chancellor's office and the provost's office. He said the idea was brought up by student leaders in their meetings with the provost and chancellor.
Johnson said another $50,000 for the project would come from KU's Campus Safety Advisory Board.
If approved, the plan would remove the potted plants and replace them with bigger trees planted in the ground, along with light poles lit with LED lights.
New stone benches would provide a new seating configuration, said Peg Livingood, a landscape architect with KU's Design and Construction Management who has worked on the project. The seating today isn't as conducive for groups, she said.
"You really can't be in a group and sit and discuss, because it's very linear," she said.
The project is still preliminary, she said, and could change based on the amount of funding allocated.
If funding is approved, the project could be done quickly, Livingood said.
"If all the stars align, it could be this summer," she said.
It could take longer, too, she said, depending on how the project is funded.
Copyright 2018 The Lawrence Journal-World. All rights reserved. This material may not be published, broadcast, rewritten or redistributed. We strive to uphold our values for every story published.