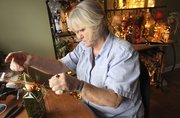 Arts and Crafts Festival
When: 9 a.m. to 4 p.m. Saturday
Where: Douglas County Fairgrounds, Building 21, 2120 Harper St.
Cost: Free to enter
Jacque Knighton started crafting — and what would become her business, Touch of Light — a few years back in San Antonio. She was inspired, she says, by glass-block lamps at a local arts and crafts fair.
"I thought, 'I bet I can do that," she said, "but I bet you could find wine and liquor bottles more often than those square blocks."
So she grabbed an old Maker's Mark bottle and "upcycled" her first lamp. Now a resident of Lawrence, she personalizes and customizes lamps by type of bottle and by what she puts on her homemade labels. She does "all kinds of things" with the bottles and various other embellishments, she said, and even makes an illuminating wedding centerpiece. Her bottle lamps vary in cost with amount of flourish — they range from beer bottles to fancy liqueurs — from about $15 to $40.
Knighton is just one of the 80 vendors who will show (and hope to sell) their handmade works at the Parks and Recreation Spring Arts and Crafts Festival, set for Saturday.
Duane Peterson, special events supervisor for Parks and Recreation, said exhibitor booths were sold out for the festival and he expected about 3,000 people to attend.
The event is free to enter.
Copyright 2018 The Lawrence Journal-World. All rights reserved. This material may not be published, broadcast, rewritten or redistributed. We strive to uphold our values for every story published.