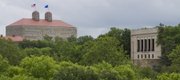 Subscribe to the email edition of Heard on the Hill and we'll deliver you the latest KU news and notes every weekday at noon.
Your daily dose of news, notes and links from around Kansas University.
• The Chronicle of Higher Education put together some good data recently on graduation rates.
They were a little unsatisfied with the federal government's published four-year and six-year graduation rates. The newspaper argued that an increasing number of students today — part-timers, transfers, etc. — wouldn't be counted in the data.
President Barack Obama, they point out, enrolled at Occidental College in Los Angeles in 1979 before transferring to Columbia University, where he earned his degree in 1983. So he would count as a nothing in the data today.
Republican presidential front-runner Mitt Romney wouldn't count for anything, either, the newspaper said. He went to Stanford in 1965, but left to go on his Mormon mission, and spent two years in France. He later enrolled at BYU in 1969 and graduated two years later. He, too, wouldn't be tallied in today's data.
But, anyway, they pulled together some data from all over the country. Here's KU's information.
KU, by the way, is still pretty concerned about this stuff. In its strategic plan, KU has said it's trying to get its six-year graduation rate of 61 percent up to at least 70 percent.
• Here's a contest where you can win up to $600 for having an interesting book collection.
For the 56th year, KU will be hosting the Snyder Book Collecting Contest, which began way back when Robert Vosper was serving as director of the KU Libraries, and wrote to Kansas City area resident Elizabeth Morrison Snyder telling her about his idea to start up a something to encourage people to buy their own collections of books.
Snyder volunteered to support the contest financially.
The rules are online, along with instructions on how to enter. Here's a peek at past winners and their collections, too. (Spoiler alert — one winner from last year came from the coolest-sounding city name in existence: Oconomowoc, Wisc.).
The collections will be on display from 5:30 to 6 p.m. Thursday, April 19 in Watson Library. James Gunn, the founding director of the Center for the Study of Science Fiction at KU, will give a presentation following the awards announcement at 6 p.m.
• Longtime (and that's putting it mildly) KU college basketball announcer Max Falkenstien got some love recently from The Matador Sports blog, which put him at the top of college sports announcers.
The blog called him the "Lou Gehrig of announcing," a reference to the Yankees baseball Iron Man who played in 2,130 straight games.
Falkenstien called every KU men's basketball home game from 1955 to 2006, and covered more than 650 football games in his 60-year career.
The blog ranked Falkenstien right above Jack Cristil, a Mississippi State announcer, and Larry Munson, a University of Georgia announcer who died last November.
• If you have a big collection of tips for Heard on the Hill, and you send them my way at ahyland@ljworld.com, I may not send you $600, but at least I'll think you're really, really swell.
Copyright 2018 The Lawrence Journal-World. All rights reserved. This material may not be published, broadcast, rewritten or redistributed. We strive to uphold our values for every story published.