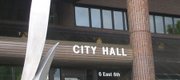 Subscribe to the email edition of Town Talk and we'll deliver you the latest city news and notes every weekday at noon.
News and notes from around town:
• That's either a growing drumbeat or about 1,000 bouncing youth basketballs that I hear. Either way, it sure appears the city is marching ever quicker toward this idea of a youth fieldhouse/tournament center in northwest Lawrence.
I expect that pace to pick up significantly very soon because multiple sources tell me Kansas University basketball coach Bill Self is set to publicly endorse the idea of a public/private partnership to build an approximately 12-gym fieldhouse near the northwest corner of Sixth Street and the South Lawrence Trafficway.
That endorsement could come as soon as today. City commissioners met in executive session for one hour Tuesday night to discuss a possible acquisition of property. After they emerged from the closed-door session, they announced city staff members would be crafting a public statement in the near future about the proposed acquisition of a piece of property.
Talks have centered on a 40- to 50-acre tract near the northwest corner of the Sixth and SLT interchange. It is expected a development group led by Steve and Duane Schwada will donate the property to the city. But the city will incur expense related to city water, sewer and roads to make the site usable. Plus, the big unknown is how much the city will be asked to spend to actually build the new center vs. how much private developers will pay?
Thomas and Tim Fritzel — leaders of the Lawrence-based Gene Fritzel Construction Co. — were both at City Hall Tuesday night, and stuck around to talk to City Manager David Corliss after the executive session. Neither Fritzel had much to say about the idea of a youth fieldhouse, but my understanding is that both would be part of the private development group that would partner with the city.
Self has been interested in supporting the project through his Assists Foundation. Whether the Kansas University Athletics Corp. also comes out in public support of the project will be interesting. My understanding is the athletic department has strong interest in the project, in part because the property could house a track and field facility. That could perhaps clear the way for the track to be moved out of Memorial Stadium at some point.
I'll be keeping my eyes open for some sort of statement from City Hall and Coach Self's organization. I'll let you know when I see one.
• If this project moves forward, the indoor fieldhouse with its basketball, volleyball, soccer and youth football facilities will get a lot of the public's attention. But I can tell you that economic development leaders are very interested in the track part of this as well.
Before Tuesday night's meeting I was talking with Bob Sanner — the guy at the Lawrence Convention and Visitors Bureau who works to attract sporting events to Lawrence — and he is very high on Lawrence's potential to host youth track and field events.
"Track can be as big as we want it to be at this point," Sanner said. "If the conditions were right, Lawrence can be a track town."
In fact there is one meet in particular that I think several folks have circled as a potential prize. Sanner told me the AAU Junior Olympics traditionally draws 12,500 athletes over an 11-day period to its host city. It has been estimated the event pumps about $34 million in the economy of its host city. In the past, the event has been held in Des Moines, Hampton Roads, Va., New Orleans and, this year, Houston.
Lawrence obviously would have to build its way up to such an event, but if you remember, the national athletics chairman for AAU was in Lawrence in January to tour the city and the Rim Rock Cross Country facility just north of town.
"AAU was extremely positive in their comments to us," Sanner said. "They feel like Lawrence is untapped territory for them."
• Speaking of events, city commissioners at Tuesday night's meeting unanimously approved a trio of events slated for Downtown Lawrence — a shot put and long jump competition as part of the Kansas Relays, the Tour of Lawrence, and the Rev it Up Hot Rod Hullabaloo.
All three events will involve some street closures in downtown. Last year, the idea of closing city streets downtown became a touchy subject with several merchants. In particular there was opposition to the Hot Rod Hullabaloo event that closed the stretch of Massachusetts Street that runs through South Park. Several merchants said closing that portion of Mass. on a Saturday would be a major blow for business in the downtown area.
Well, on Tuesday, there were no such concerns presented. In fact City Commissioners Mike Amyx and Bob Schumm were the two commissioners who last year were most opposed to the car show idea. But last night, both took time to publicly tell the car show organizers that they had their full support for the event.
"I want to say it was a well-run operation," Schumm said. "It did not cause any trouble. I checked with a number of merchants after the event, and they said the same thing."
Amyx said he heard the same positive response.
"In fact, I've had a number of people ask me when the event is going to be this year," Amyx said. "So, get ready."
The car show, which last year raised $6,400 for Big Brothers/Big Sisters, has changed its date. Last year it was held in the fall. This year it is set for Aug. 11.
Copyright 2018 The Lawrence Journal-World. All rights reserved. This material may not be published, broadcast, rewritten or redistributed. We strive to uphold our values for every story published.