A 16-pound steel ball, lots of spandex and a few detours are all on tap for Downtown Lawrence.
As the temperatures rise, so to will the number of downtown events and associated street closings. Lawrence city commissioners are set to approve four of them at their meeting on Tuesday evening. Here's a look: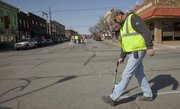 • Kansas Relays shot put competition. At 6 p.m. April 18 — a Wednesday evening — city crews once again will convert the intersection of Eighth and New Hampshire streets into a world-class shot put ring.
The event made headlines last year by becoming the first sanctioned U.S. shot put event held on a downtown city street, relay officials said. The event attracted about 2,500 spectators, and organizers said it was an easy decision to bring the event back to downtown: Very big men who throw 16 pound shot puts told them to do so.
"The throwers just loved it," said Milan Donley, director of the Kansas Relays. "After the event, they told us we had to do this again. And they all have agreed to participate again."
Donley said 11 competitors are expected to compete, including former world champions, Olympic medalists and several throwers who are expected to compete in the Olympic Games in London this summer.
The event will close the 100 block of East Eighth Street and the Eighth and New Hampshire intersection from 6 a.m. April 18 to 6 a.m. April 19, in order to give crews time to set up and tear down the shot put ring.
Organizers are asking for city approval to allow alcohol sales on the public right-of-way surrounding the shot put area. Organizers also plan to add bleachers around the ring to accommodate a larger crowd.
• Kansas Relays long jump competition. At 6 p.m. April 19, world class long jumpers will take over the 100 block of West Eighth Street. But this year the event will shift from a men's competition to a women's competition. Donley expects a field of eight women. The block would be closed to traffic and parking from noon to midnight on April 19. Like the shot put event, organizers also are seeking approval for outdoor alcohol sales around the venue.
• Tour of Lawrence bicycle race. About 700 bicyclists are expected to be in town June 29 through July 1 for the fourth annual Tour of Lawrence. Bob Sanner, executive director of the Lawrence Sports Corporation, said the event is growing in popularity, and organizers are increasing the prize payouts from $20,000 to $25,000.
"It takes two or three years for riders to figure out we're on the calendar," Sanner said. "I'm planning on this being our break out year."
Last year, the event attracted riders from 16 different states, and included about 15 professional riders.
The races, though, do take up large amounts of downtown city streets. On June 29 — a Friday — downtown will host a street spring race at 7 p.m. on parts of New Hampshire Street. The event will require the 700 block and part of the 800 block of New Hampshire Street to be closed from 5 p.m. to 10 p.m. In addition, the 100 block of East Eighth Street will be closed from 3 p.m. to 11:00 p.m. Also the western half of the 200 block of East Eighth Street will be closed from 10 a.m. to 10 p.m.

On June 30, the races move to a course that largely will be Kansas University's campus. Then on July 1, the event will move back to downtown for a criterium race, a form of lap racing on parts of Massachusetts, New Hampshire and Vermont streets. That race will require all of Massachusetts Street from Seventh to 10th Streets to be closed from 6 a.m. to 9 p.m. New Hampshire Street from Eighth to 10th streets also will be closed during that time period, as will Vermont Street from Seventh to Eighth streets.
As in past years, organizers are asking the city to contribute $10,000 to help cover expenses for the event. Commissioners also are being asked to allow outdoor alcohol sales in designated areas of downtown as part of the event.
• Rev it Up Hot Rod Hullaballoo. Local promoters Stephen and Michelle Chronister are seeking approval to close down part of Massachusetts Street on Aug. 11 for the second annual car show.
The event will close Massachusetts Street from 11th to 13th streets. The event would be a fund-raiser for local charities. Last year, the event raised $6,400 for Big Brothers/Big Sisters.
Commissioners meet at 6:35 p.m. on Tuesday at City Hall.
— City reporter Chad Lawhorn can be reached at 832-6362. Follow him at Twitter.com/clawhorn_ljw
Copyright 2018 The Lawrence Journal-World. All rights reserved. This material may not be published, broadcast, rewritten or redistributed. We strive to uphold our values for every story published.