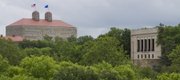 Subscribe to the email edition of Heard on the Hill and we'll deliver you the latest KU news and notes every weekday at noon.
Your daily dose of news, notes and links from around Kansas University.
• A KU Medical Center pediatrician is quoted here offering his opinion on new research that show that children who snore may have trouble later in life.
The research, from a researcher at the Albert Einstein College of Medicine in New York, showed that signs of sleep-disordered breathing could lead to a 60 percent greater risk of behavioral disorders like hyperactivity by age 7.
"It used to be that I would ask if a child snored if I saw large tonsils," Stephen Lauer, a KUMC professor, told MedPage Today. "It has now become a standard part of the well-child check. And when there are issues of behavioral problems, school performance, and especially attention deficit hyperactivity disorder concerns, the first question I ask has to do with sleep and snoring."
• A new $100,000 gift to the KU School of Medicine will establish a new scholarship for medical students, with a preference for black students.
Hugo Zee, who earned a bachelor's degree from KU in 1954 and a medical degree from KU in 1958, donated the funds for the scholarship with his wife, Nora Dougherty Zee.
Zee emigrated to the U.S. from the Netherlands after World War II, and wanted his money to "do some good," he said in a statement from KU.
It's another in the ongoing donations for "Far Above: The Campaign for Kansas," which kicks off publicly next month.
It's been in the silent phase for some time now, and I know I've been talking about the campaign as far back as when I first started working here in 2008.
• There's a little bit of a kerfuffle going on after the student newspaper for a certain university a little bit to the west of KU published a column calling for the university not to admit international students from countries that have bad relations with the United States.
I first spotted this on Inside Higher Ed.
Here's the column, with a "follow-up" apology from the Kansas State University student columnist, Sean Frye.
The editor-in-chief of the Kansas State Collegian also apologized, saying that the content and style of the column should have "raised concerns."
• In the ongoing campaign "Far Above: The Campaign for Heard on the Hill Tips," I'm going to need you to send me some at ahyland@ljworld.com.
Copyright 2018 The Lawrence Journal-World. All rights reserved. This material may not be published, broadcast, rewritten or redistributed. We strive to uphold our values for every story published.