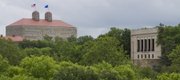 Subscribe to the email edition of Heard on the Hill and we'll deliver you the latest KU news and notes every weekday at noon.
Your daily dose of news, notes and links from around Kansas University.
• Here's a good story from the Des Moines Register that took a look at how much it costs basketball schools to schedule what's called "guarantee games."
Those are the games against teams with no return trip to the other school's gym, and instead, the host school pays a one-time, lump sum payment to the visiting school.
The newspaper found the costs of these games are going up and up.
KU scheduled six such games this year, at a total cost of $515,000. That was just shy of Missouri's $525,000 for the top spending in the conference (though Baylor's records, as a private school, weren't available).
KU's games were against Florida Atlantic, South Florida, Long Beach State, Davidson, Howard and North Dakota. Of those, South Florida and Long Beach State cost the most, at $90,000 each.
Of all the schools in the Big 10 and Big 12 conferences that the newspaper looked at, by the way, KU was one of only two schools to actually lose a guarantee game this year, against Davidson.
Texas A&M;, which lost to Rice, was the other.
• The KU Alumni Association reports that celebrating basketball can be damaging for your health.
In a blog that follows fans around the basketball team, the association tells of Jacksonville, Fla., chapter leader Vicki Tierney, whose victory dance after the KU-MU game resulted in a visit to the emergency room after she hyperextended her knee.
She was watching the game with about 80 other KU fans at a sports bar, and the doctors told her she apparently tore the meniscus or posterior cruciate ligament in her knee.
"It was so worth that sweet victory dance," she said.
• KU students have proposed an addition to syllabi that could be used as a guide for allowing technology in classrooms.
"The use of technology in the classroom is allowed for this course, with the understanding that it will be used to further students' learning. Use of personal electronic devices during class time is limited to activities that will benefit the student in learning the material related to this course. Using technology for purposes other than those directly related to coursework in this class, such as to communicate with others outside of class, is an inappropriate use of class time. If there are questions of what is appropriate usage, please ask your instructor. Lectures may not be audio or video recorded without the permission of the professor."
The students, in a recent University Senate session, said that current policies can vary quite a bit — some faculty allow pen and paper only; some allow laptops, but only at the back of the room; and others have no restrictions at all.
That bit about the lecture recording is probably a nod to the controversy that followed the recording of lectures at the University of Missouri-Kansas City recently.
• I'll do my best Vicki Tierney dance if you'll send me a sweet tip for Heard on the Hill at ahyland@ljworld.com. But I might have to do some stretches beforehand.
Copyright 2018 The Lawrence Journal-World. All rights reserved. This material may not be published, broadcast, rewritten or redistributed. We strive to uphold our values for every story published.