Editor's note: This is day one of a two-part feature on meth in southeast Kansas.
DEARING, KAN. — Drive through this small town, population 400, and people still wave and give a little honk.
Related feature
A look at the number of meth lab incidents reported locally, statewide, and across the country. Statistics provided by the Kansas Bureau of Investigation.
The basics of meth
What is it?
A central nervous stimulant drug that is typically in a white powder form, or sometimes in small crystals. Users of meth can swallow, snort, smoke or inject the drug. The drug initially produces a euphoric rush — similar to cocaine — by increasing the amount of dopamine, a chemical in the brain. Meth was first created in the late 1800s and saw its first use as a medication for narcolepsy in the 1940s. Meth labs creating the drug for illicit purposes can be traced back to the 1980s, but the Drug Enforcement Agency didn't began tracking national statistics until 1986.
Effects
Increased physical activity, decreased appetite, increased respiration, rapid and irregular heartbeat, increased blood pressure and hyperthermia. Negative effects include weight loss, dental problems — or "meth mouth" — anxiety, confusion, insomnia, violent behavior, paranoia and delusions.
Other dangers
The drug is made through a series of chemical reactions of volatile ingredients, which can cause devastating fires. Though law enforcement says it's difficult to give numbers on how many other crimes are meth-related, in meth-infested communities, robberies, burglaries and other violent crimes are associated with the drug. The Kansas 2005 Matt Samuels Act, which limited the amount of pseudoephedrine someone can purchase in the state, was named after a Greenwood County sheriff killed in 2005 when he entered a meth lab. The man who shot him admitted to being on meth when the shooting occurred.
How is it made?
Originally, meth lab producers needed larger labs, often located in rural areas, to produce the drug using pseudoephedrine. The "Nazi" or "Birch" method uses anhydrous ammonia, while the "Red P" method uses red phosphorus. Newer methods include the "one-pot" method, which requires less pseudoephedrine but neither red phosphorus or anhydrous ammonia, and can be made using commonly found products such as lithium batteries and garden fertilizer.
How prevalent?
According to the National Survey on Drug Use and Health, 0.1 percent, or 353,000, of Americans age 12 or older had used meth in the past month. That number is down from 0.3 percent, or 731,000, in 2006. Statistics from the DEA show meth lab seizures peaked in the early 2000s and declined until 2008. The numbers peaked in 2004 at 17,274 seizures, dropped to 5,389 in 2007, but have risen ever since. In 2011, there were 10,069 reported meth lab seizures.
Where does Kansas rank?
In 2011, Kansas ranked 14th in the country in meth lab seizures with 187. Missouri led the country with 2,092, followed by Indiana with 1,238 and Tennessee with 1,140. Oklahoma ranked fifth with 849.
County profiles
• Montgomery
Population: 35,453
Unemployment rate: 8.6 percent
Median household income: $40,603
Poverty level: 14.8 percent
• Crawford
Population: 38,985
Unemployment rate: 6.8 percent
Median household income: $35,386
Poverty level: 17.7 percent
• Cherokee
Population: 21,740
Unemployment rate: 6.7 percent
Median household income: $48,319
Poverty level: 17.5 percent
• Labette
Population: 21,791
Unemployment rate: 8.6 percent
Median household income: $39,049
Poverty level: 15.5 percent
A small, brick fire station, a few stores and modest single-story houses are about all there is to the town located five miles from the Oklahoma border.
Law enforcement, however, will tell you that Dearing is a hot spot for the methamphetamine production and use that plague a four-county region in southeast Kansas.
"Got a lab out of that one in January," said Montgomery County Sheriff Bobby Dierks, pointing to a rundown house in an otherwise quiet Dearing neighborhood.
A few blocks down, Dierks pulls his Toyota Tundra into the driveway of a dilapidated house with "methamphetamine lab" warning signs posted on the windows and doors.
Around the corner, Dierks points to a mobile home where authorities busted a meth lab earlier this year.
Talk to people in law enforcement in neighboring counties and they tell similar stories about an explosion of meth use and production in Kansas towns such as Parsons, Pittsburg, Independence, Caney and Coffeyville.
"If you arrest one guy, chances are there are five guys down the street doing it," said Christopher Williams, a drug detective with the Montgomery County Sheriff's Office. "There's no shortage of people who are manufacturing methamphetamine."
In 2011, Montgomery, Labette, Cherokee and Crawford counties, which border Oklahoma and Missouri in southeast Kansas, were responsible for 129 of 187 of the state's meth lab incidents, which include lab, dump site and other material seizures.
The region's pharmacists, pediatricians, police, prosecutors and treatment providers say they're steeped in a growing war against meth — and are losing — as they try to fight crafty drug makers and a burgeoning epidemic.
Better pay attention, Kansas, they warn.
Patient zero
Law enforcement in Labette County, home to the city of Parsons, started seeing what's known as the "one-pot," or "shake and bake," meth labs soon after Gary O'Hara, 37, was released from an Oklahoma prison.
Since 1994, O'Hara has spent the majority of his life in Oklahoma prisons for manufacturing and distributing meth.
Somewhere along the line, O'Hara learned the one-pot method, which is simpler than older meth production methods and requires much less pseudoephedrine, an over-the-counter cold medicine needed to manufacture the drug. Police say the one-pot method revolutionized meth production overnight.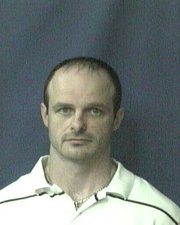 Labs of the past, which peaked in the area and the country in the early 2000s, produced a strong smell, and cooks needed remote areas to avoid detection.
But with the one-pot method, anyone with $30 can make meth in a garage, a house or car.
"Everything you need you can buy at Walmart," said Scott Gofourth, deputy police chief of the Parsons Police Department.
Go online and you'll find detailed guides on how to make the drug.
The process involves adding ingredients to a bottle, such as a 2-liter plastic soda bottle, along with a host of other easy-to-obtain products, such as the lithium strips in batteries. The "shake and bake" term refers to the step in the process when the bottle is shaken, igniting a range of chemical reactions. If you're good at it, you'll have meth in an hour. If you're unlucky, a blaze will pierce the bottle, shooting streams of flaming liquid.
In April 2010, law enforcement from several jurisdictions in southeast Kansas conducted a month-long investigation into meth production at a Parsons motel.
The investigation netted six arrests, including O'Hara, who police believe was the ring-leader. It's also believed O'Hara, while in the area, taught others the one-pot method. Police had been hearing about the one-pot method for a few months, but the O'Hara sting was their first, up-close experience with the new method.
In less than two years since O'Hara's arrest, the number of one-pot labs has shot up across the region. Labette County had five incidents in 2010 but 34 in 2011, statistics mirrored in Montgomery, Cherokee and Crawford counties.
Lawrence police say they have yet to see the one-pot method, and Douglas County has seen a drop in meth lab incidents since 2001, recording just two in 2011.
But as O'Hara showed, all it takes is one person to spread the recipe throughout a community.
In Montgomery County, Williams said they're building a case on a manufacturer who they believe has taught at least seven people the one-pot method.
"You can bet they've shown seven other people," Williams said. "It just mushrooms from there."
O'Hara was charged with meth manufacturing but was released from Labette County Jail on a $100,000 bond in 2010. On Christmas Day 2010, police allege, O'Hara stole a truck from a dealership in Broken Arrow, Okla. Two months later, police pulled O'Hara over for not wearing his seat belt.
Inside the truck cab, police found two shake-and-bake labs, as well as marijuana, Xanax and Oxycodone. O'Hara is awaiting trial on numerous charges in Tulsa County, Okla.
Parsons
Quickly shuffling through a crowded office at the Labette County Health Department, pediatrician Manish Dixit works through his list of patients. The office is filled with baby photos, the waiting room with crying kids.
The pediatrician's office is always full, says the receptionist, and the wait long. A middle-aged woman in a nurse's outfit helps Dixit coordinate patients, and she makes it clear the children are the No. 1 priority.
"The newspaperman will have to wait," she barks.
Dixit has to sneak into a back office to talk. While law enforcement count the toll of meth use in arrests and lab seizures, Dixit counts it in lives destroyed.
He begins a somber discussion of how the drug has devastated an entire generation of families in the area.
"Parents will be on the high when they come in," says Dixit, describing the telltale signs of spacey, restless and agitated adults bringing children in for treatment.
Then there are the pregnant ones.
Meth use can cause an abruption of the placenta, Dixit says, and you end up with babies being delivered in driveways.
"Mothers aborting on a regular basis," he says.
The babies who survive are plagued with lifelong physical and psychological problems, Dixit says.
Dixit's office makes referrals to child protective services.
"But they keep shifting from doctor to doctor, and there's no tracking," Dixit says.
A couple of years ago, Dixit teamed up with law enforcement, a pharmacist and city officials to work on a city ordinance requiring a prescription for pseudoephedrine. In 2011, Parsons became the first and only municipality in the state to do so.
Gofourth, also a strong advocate for the ordinance — effective July 1 — said the numbers show it's made a dent in the fight against meth.
In the first six months of 2011, his department saw about 25 meth lab incidents, but just 10 in the last six months of the year.
The problem? Meth makers who need pseudoephedrine simply go to neighboring communities, collecting the drug in a process known as "smurfing."
Teams of people load up in vans and scour the region, buying up their monthly allotment of pseudoephedrine, 3.6 grams per purchase or 9 grams per month, from pharmacies.
It's a common practice across southeast Kansas, police say.
"There is a lot of people out there who purchase pseudoephedrine just to sell it," said Williams, the drug detective. The going price can reach $50 for a $5 box. "You can make a lot of money doing that."
A 2005 Kansas law, the Matthew Samuels Act, placed the restrictions on pseudoephedrine purchasing in an attempt to reduce production. It worked — for a while.
In 2001, police reported 847 meth lab incidents in Kansas, and that number dropped to 583 by 2004. Since 2005, those numbers have continued to plummet, until recently. In 2010, the state reported 143 incidents but 187 in 2011.
"We're definitely going back up," said Loretta Severin, drug strategy coordinator for the Kansas Bureau of Investigation. "Mostly that's attributed to the one-pot method."
As the one-pot method has risen in popularity, smurfing has resurfaced, Severin said.
"It's kind of an institutional culture down there," said Severin, citing the close proximity to two states, Missouri and Oklahoma, that rank high in meth production and use.
While Kansas limits the amount of pseudoephedrine someone can purchase, the computer tracking system that helps pharmacies monitor buys, tracks only purchases in each state. So, someone could make a loop from Missouri to Oklahoma to Kansas, and net a nice quantity of the drug in a short time, Severin said.
Have a few fake IDs and it's even easier.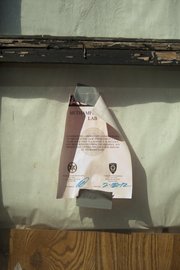 'Meth trash'
Dierks, the Montgomery County Sheriff, cruises through the back roads that cut through the fields of his county, just north of Independence, the county seat.
He's on the hunt for what he calls "meth trash," what drug makers leave behind in abandoned sheds, barns and houses. Any meth-related materials are considered dangerous and toxic, and law enforcement often bears much of the burden of disposing of the waste. It can cost thousands in materials, and more in man hours, to clean up a site, which occasionally goes up in flames.
He pulls up to an abandoned house in the middle of a bean and wheat field, once owned by a guy named "Smith," Dierks said. There was a barn, but some meth makers burned it down a few years ago.
Dierks storms through the house, which looks like it was hit by a tornado. He says this is one of the many spots around the county they've busted over the years. He warns about nails, and plows through the house scanning for evidence of recent activity. A couple of empty cans of Red Bull litter the walkway. Inside he finds an empty 2-liter Pepsi bottle, most likely older meth trash, he says.
Back on the road, Dierks stops by a friend's farm, and helps the rancher corral a few cows that have wandered out through an open gate. Then it's back on the road. As he drives, Dierks talks about the hard-working people he's seen devastated by meth, something that's become generational. Guys he went to high school with got wrapped up in it, and now they're arresting the sons of those men, who went to school with his kids.
As Dierks cruises along another country road, pointing out more abandoned drug houses, he doesn't swerve for a dead carcass on the gravel road.
"Groundhog," he says. A few moments later: "Guess he didn't see his shadow."
Why southeast Kansas?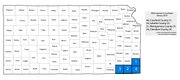 Local law enforcement report they have yet to see the one-pot meth methods that have infiltrated southeast Kansas.
Why meth and the one-pot method is focused in southeast Kansas is subject to different theories from those entrenched in the fight against it.
"There's no one reason for that," Severin said.
When the larger labs started showing up in the late 1990s and early 2000s, they hid in rural communities, such as southeast Kansas, Severin said. But why hasn't it been seen in other parts of Kansas?
"Is western Kansas rural? Absolutely," Severin said. "But we don't see near the numbers."
Steve Wilhoft, an assistant attorney general who prosecutes large drug cases in southeast Kansas, cites the low socio-economic status of the region; cheap drugs and cheap ways to make a little extra money in a depressed economy can prove attractive to poorer Kansans. While there are other poor counties in Kansas, this region claims the high percentages of residents below the poverty line, between about 15 percent and 18 percent, well above the state's 12.4 percent average. Unemployment rates are also higher in the region than the state's 5.9 percent unemployment rate. Labette and Montgomery counties, for instance, are near 9 percent.
Williams, the detective, mentions the region's proximity to Tulsa, burdened with its own significant meth problems. Easy to spread a little north, he said.
"This is just the tip of the iceberg of what we're going to see," Williams said. "If the people of Douglas County don't think that this is coming, they're wrong."
Copyright 2018 The Lawrence Journal-World. All rights reserved. This material may not be published, broadcast, rewritten or redistributed. We strive to uphold our values for every story published.