Photo Gallery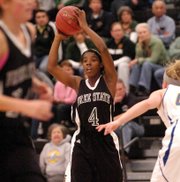 FSHS girls vs. Olathe South
Leavenworth — The rematch was shaping up to mirror the original.
Free State High's girls basketball team wasn't just hanging around with Olathe South, the team that beat the Firebirds at the buzzer three weeks earlier. FSHS had the look of a possible sub-state champion, responding to the Falcons' speed and perimeter strength by giving O-South doses of its own medicine.
For three quarters, the Class 6A sub-state title game between the two Sunflower League rivals couldn't have been more even.
That was before O-South dominated the fourth quarter and advanced to the state tournament with a 60-48 victory that ended Free State's season.
FSHS had led by as many as eight points in the third, and O-South's lead entering the fourth was 45-43.
Unfortunately for the Firebirds, their effectiveness on offense dried up late. Senior Lynn Robinson hit a cutting Kennedy Kirkpatrick for a lay-in with just more than six minutes to play, and O-South (20-2) led by just four points. But FSHS (16-6) didn't score another basket until less than a minute remained and the game was so far out of reach coach Bryan Duncan already had pulled most of his starting lineup from the game.
After hitting 17 of their 34 shots (50 percent) through three quarters, the Firebirds went 2-for-10 from the floor in the fourth with three turnovers.
Duncan said the O-South defense probably had a say in Free State's struggles down the stretch, but there was more to it than that.
"The first three quarters, we were really moving, getting easy buckets," the coach said. "I don't think they did anything different defending us. I think you just saw us settling for quick jumpers, and there was a little bit of a lack of movement."
While athletic Falcons senior Alex Hugo scored seven points by herself in the first five minutes of the fourth, Kirkpatrick's three points through the first six minutes were all Free State could muster (junior sub Ariana Frantz finally scored another FSHS basket with 12 seconds left), and O-South had built a 12-point lead entering the final two minutes.
After such a back-and-forth game — both teams held leads in each of the first three quarters — the Falcons established separation when they needed it most. Once that happened, FSHS senior Jackie Garcia said, the Firebirds didn't have it in them to get back in the game. With the pressure of the fourth quarter, Garcia said it didn't register that a two- or three-possession lead wasn't that much to overcome.
"We definitely got down on ourselves," Garcia said.
While O-South got both stops and scores, Robinson said, Free State couldn't make the plays to keep up.
"We knew we were down, and we had to score, and with that in our minds the flow of the game wasn't going as well as it had been earlier," she said.
Kirkpatrick, who led FSHS with 15 points and four assists, said the Firebirds were satisfied with their first three quarters before they stumbled in the fourth.
"I thought we lost our composure," Kirkpatrick said. "We had a couple different spurts where they had some really easy buckets."
A big difference for the Falcons in the championship game was their ability to get to the rim from the outside. Freshman guard Kylee Kopatich and senior Megan Balcom created shots and chances for O-South offensive rebounds with their drives.
Said Robinson: "They really picked up their dribble penetration, which we weren't able to handle very well."
FSHS sophomore Scout Wiebe's eight rebounds led the team, and she finished with nine points. Junior Chelsea Casady scored eight points on 3-for-6 shooting.
Hugo led O-South with 16 points, and Balcom scored 13.
In their final game for the Firebirds, Robinson had five points and two assists, and Garcia had four points and three steals.
Duncan credited the duo for leading Free State to its best regular-season record in program history.
"You can't speak highly enough about that kind of play," the coach said. "They've been great for us all year."
Garcia wished it could've ended better, with FSHS keeping pace with O-South in the fourth.
"They just came out and showed us a whole other gear, and we weren't ready for it," she said. "We didn't answer when we needed to."
Copyright 2018 The Lawrence Journal-World. All rights reserved. This material may not be published, broadcast, rewritten or redistributed. We strive to uphold our values for every story published.