Leavenworth — A chance at redemption sat squarely in front of the Free State High boys basketball team Thursday night.
The struggles and losses of the past three months wouldn't seem so bad if the Firebirds could pull off some postseason magic.
Photo Gallery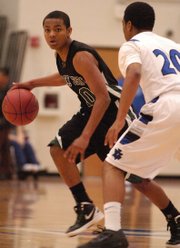 FSHS boys vs. Leavenworth
For a half, underdog FSHS played to its potential and had Leavenworth in a precarious spot. But the Pioneers showed why they were the No. 2 seed in this Class 6A sub-state tournament and put an end to No. 7 seed Free State's season with a 65-47 home win.
It was obvious to all involved that the third quarter was the point when the Firebirds' chances of pulling off the upset were dashed. FSHS coach Chuck Law said it was kind of cliche, but the first four minutes of the second half can decide a basketball game.
Law's Firebirds (7-14) felt pretty good about where they stood at halftime, trailing just 27-24. However, less than two minutes into the third quarter, Leavenworth (16-5, No. 7 in 6A) had scored seven unanswered points — courtesy of Grant Greenberg, Jeff George and Jerricus Funderburke — to take a 10-point lead.
Though FSHS senior Tyler Self put a stop to the bleeding by nailing his third three-pointer of the game, George answered with his third three-pointer, setting the table for what would be a steady barrage of backbreaking plays by the Pioneers.
"They've got another gear," Law said of LHS. "They came out and hit some big shots to start the second half and we didn't."
Leavenworth put the game out of reach with a series of mini-runs in the second half. LHS went on a 10-4 spurt late in the third and took a 46-33 lead into the fourth quarter. An 11-1 run in the fourth sealed Free State's fate.
"We don't have the offensive fire-power to combat that," Law said.
Following a six-point third quarter for Greenberg, an LHS senior guard, he scored 11 in the fourth to finish with a game-high 26.
The closest FSHS could get in the final eight minutes was eight points, thanks to a quick start in the fourth, with a jumper by Brett Frantz and two buckets in the paint for Gabe Patterson. However, Greenberg soon after went on a personal 7-0 run.
With just less than a minute remaining in their prep careers, a despondent group of Free State seniors — Self, Frantz, Patterson, Cameron Dabney and Shawn Knighton — left the floor.
Frantz, who finished with nine points, said the Firebirds needed to answer LHS basket-for-basket in the second half and they failed to do so.
"It's hard not to look up and see the score and see it (the deficit) keep on getting bigger," Frantz said.
Leavenworth did most of its damage in the third quarter, when FSHS had five of its 15 turnovers and shot 3-for-10 from the field. In the meantime, the Pioneers went 8-for-12 with three turnovers. Self, who scored 11 points and passed out three assists, said Free State's miscues were the difference.
"We did some careless things with the ball, which didn't help, and they got some easy buckets in transition," Self said. "We just couldn't get it back after that."
Law agreed: "Turnovers were big. We were careless in some critical junctures of the game. And those are kind of deflating. Some of our turnovers tonight, they weren't aggressive."
Patterson had team-highs of 18 points and eight rebounds. He said Free State hoped to salvage a rough season with a sub-state victory.
"It's really hard to deal with… We just fell apart in the second half and lost the game that way," the senior forward said.
Though Leavenworth got out to a 9-2 lead in the first quarter, Free State stormed back behind baskets from Frantz, Patterson, Dabney and Self, and trailed 12-10 entering the second quarter.
FSHS stayed within striking distance in the second, when its five senior starters accounted for all six of the team's baskets.
As often was the case for the Firebirds this season, they were left with some what-ifs following the 18-point defeat.
Said Law: "We played like it was a good match-up for us for about 16 minutes."
— Check out Benton Smith's "Prep Appraisals" from the game.
Copyright 2018 The Lawrence Journal-World. All rights reserved. This material may not be published, broadcast, rewritten or redistributed. We strive to uphold our values for every story published.