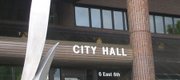 Subscribe to the email edition of Town Talk and we'll deliver you the latest city news and notes every weekday at noon.
News and notes from around town:
• Maybe Bill Self's motivational skills extend far beyond the basketball court. Whatever it is, it sure appears the city of Lawrence is moving into a higher gear on this idea of a public/private partnership to build a significant fieldhouse/recreation center in northwest Lawrence.
My understanding is a variety of city officials met for a couple of hours on Wednesday at the basketball office at the headquarters of Kansas University Athletics. Now, probably not coincidentally, the city has scheduled an executive session at their Tuesday evening meeting to discuss possible acquisition of property. There has been no official word from City Hall on this, but it is my understanding commissioners will discuss receiving a donation of 40 to 50 acres of property near the northwest corner of Sixth and the South Lawrence Trafficway for a possible fieldhouse/tournament center.
As we have previously reported, a group led by Lawrence businessmen Steve and Duane Schwada have expressed an interest in donating property to the city, if the city is interested in pursuing a facility that could serve as a magnet for regional or even national youth sporting tournaments.
We also have reported supporters of this project have been looking at a large youth fieldhouse facility in Frisco, Texas, as a possible model for what could be done here. That facility has about 145,000 square feet, 12 gyms, an indoor/soccer/youth football field, a food court, fitness center and several other amenities.
I'm still hearing that's a general concept for what is possible for a Lawrence project, but I think the local facility also would include a wellness center and maybe some more outdoor activities. I'm also still hearing a track and field facility is in the mix. I don't have a good handle on whether that would be the type of facility that could replace the track at Memorial Stadium or whether it is more of a youth-oriented facility.
In all honesty, there are several aspects of this project that still aren't clear to me, but it seems like some important developments are occurring that the public should at least be aware of. Going forward, I think these will be some of the big questions that will determine whether this idea actually turns into a project:
— What is the price tag and how would the costs be split among the city, private interests, and perhaps the KU Athletic Department?
— Who will operate the center? The facility in Frisco is owned by the city but operated by a private group that works to attract tournaments and other events to the center. Would Lawrence officials be comfortable with such an arrangement, or would they rather have a facility that is run by the city's parks and recreation department? If the facility is run by a private group, will there be parts of the building that are run like a traditional city recreation center? You know, areas like a fitness/cardio room and free gym time for pick-up basketball games and such.
— Will Bill Self come out and publicly endorse the project? Self's foundation has previously said it is very interested in a facility that can boost the presence of youth sports and promote wellness in the community. When the city was considering building a $15 million recreation center at Sixth and Wakarusa — which would have included five to six gyms — Self's foundation had indicated it likely would donate $1 million to the effort. If the coach comes out and says this public/private partnership is a great idea, that will open a lot of ears in this town and in the broader KU community.
— How will the public react to such a major project? There certainly has been a fairly active group of parents and others who have said Lawrence is missing out on a lot of dollars because many youth sporting events are being held out of town. This larger facility may be more appealing to them than a traditional city-operated recreation center. How the rest of the public reacts probably will depend on how much the city will have to spend and how much access the public will have to the facility.
As for Tuesday's meeting, commissioners usually don't take any formal actions after executive sessions. If the commission wants to move forward with this piece of property, I would expect that to show up on a future City Commission agenda.
• Speaking of proposals, the Lawrence-Douglas County Housing Authority wants to receive some from the development community. Shannon Oury, executive director of the Lawrence-Douglas County Housing Authority, has sent a letter to city commissioners informing them that the authority likely will begin discussing a new affordable housing project with private developers in the community.
The housing authority recently was approached by a local developer interested in working with the authority to build a new "affordable multifamily project." After receiving the proposal, the authority's board decided it would be best to issue a call for qualifications to determine if there are any other developers interested in working on a project with the authority.
Oury stressed in her letter that the current concept for an affordable housing development would not require any city funding. But the city ultimately would have to be involved because the housing authority's by-laws call for the city to hold title to property owned by the housing authority.
Commissioners will receive the letter at their Tuesday meeting.
• If the Jayhawks don't make it to either the Elite Eight or the Final Four this year, remember this number: 8713. That's the number of a city ordinance that will be up for approval at Tuesday's City Commission meeting. The ordinance bans the possession of glass bottles or other glass containers on sidewalks and other public rights of ways in downtown from noon on Saturday, March 24, to 6 a.m. on Monday, March 26, and also from noon on Saturday, March 31, to 6 a.m. on Tuesday, April 3.
Those dates coincide with the dates of the Elite Eight and the Final Four of the NCAA men's basketball tournament. The ordinance is an effort by the Lawrence Police Department to plan for large crowds in downtown, if the Jayhawks make a deep run into the tourney. The idea of not having a bunch of glass bottles around in such a frenzied environment is kind of a best-practice for public safety.
And no, the city is not trying to jinx the Jayhawk's chances by doing this before tournament even begins. An ordinance typically takes a few weeks to go through the entire approval and publication process.
But still, you have to worry. What if an opposing coach gets a hold of this ordinance? What type of bulletin board material would that be? "Pursuant to the general police powers of the city of Lawrence," or "this ordinance shall take effect an be in force." Pretty bold legalese.
In case you are wondering, the fine for carrying a glass bottle in downtown on those dates can be up to $100 plus court costs.
Copyright 2017 The Lawrence Journal-World. All rights reserved. This material may not be published, broadcast, rewritten or redistributed. We strive to uphold our values for every story published.