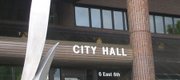 Subscribe to the email edition of Town Talk and we'll deliver you the latest city news and notes every weekday at noon.
News and notes from around town:
• Perhaps the future is in Frisco, as in Frisco, Texas. Here's a video that has been making its way around to folks who may be interested in a new West Lawrence recreation and tournament center.
The video talks about Fieldhouse USA — a 146,000-square-foot athletic center in Frisco, Texas, that houses 12 gyms, an indoor soccer/youth football field, a 5,000-square-foot food court, a fitness center and several amenities.
If you remember, city commissioners recently brought to a halt preliminary design work on a proposed five- to six-gym West Lawrence recreation center after they were approached by some business parties that expressed an interest in a public/private partnership. I'm not saying this Frisco fieldhouse is exactly what Lawrence developers are looking to build, but it sure appears they're using it to plant a seed in the minds of Lawrence leaders.
So, I decided to find a little bit more about the facility. According to some city of Frisco documents, the fieldhouse opened in 2009. It was a partnership between a private development group and the city. The city of Frisco paid $12.5 million for construction, and the facility was built on 10 acres of donated land. The fieldhouse is owned by the city, but it is operated by a private development group. The group leases the building from the city at a rate equal to the city's debt payment on the facility.
The facility is high-tech all the way, and designed to appeal to young athletes and their parents. The building has 54 high-definition TVs spread throughout. In fact, the scoreboard for each court is a 64-inch flat screen, which allows for stats and player photos to be posted during the game. Frisco officials estimate the facility attracts about 2.5 million visitors each year.
Frisco is a city of about 115,000 people outside of Dallas. It is in one of the fastest-growing regions of the country. While Lawrence doesn't have that type of growth, what it does have is Kansas University and its nationwide basketball reputation. My understanding is KU athletics has interest in exploring a partnership, which could include outdoor track facilities. KU Coach Bill Self's foundation already had told the city it was interested in donating $1 million to a city recreation center/fieldhouse venture. But I've heard Coach Self had a desire for a facility that could be more of a showcase for youth sports than what the city had envisioned.
For their part, city commissioners haven't committed to anything. But they previously have expressed some interest in spending up to $15 million for a westside recreation center.
City officials haven't yet identified the private party that brought the idea forward. But based on information being circulated to interested parties, it sure appears that it is a group that includes members of the Schwada and Fritzel families. That would make sense. A group led by Steve and Duane Schwada already offered to donate property on the southwest corner of Sixth Street and the South Lawrence Trafficway for a recreation center. And the developers have quite a bit of retail zoned land on the northwest corner of the intersection. That development currently is vacant, but you could easily envision it filled with hotels, stores and restaurants if there were a major attraction right across the road.
My sense is that there is a lot of excitement among some private developers and the Lawrence Convention and Visitors Bureau about this project. Now, we'll see how much excitement the idea has at KU Athletics, with KU donors and with city commissioners. And if KU Coach Bill Self decides to really lobby for the project, watch out. The project could pick up a lot of momentum in a hurry. It is never wise to bet against the coach. Just ask the Tigers.
• So there is definitely planning going on in northwest Lawrence, but as we've previously reported, there also is planning going on in North Lawrence. And perhaps it involves a trolley.
Lawrence-Douglas County planning commissioners will consider a couple of items tonight related to a plan to redevelop the area next to the Kansas River and Johnny's Tavern.
Plans have called for a boardwalk to be built along the Kansas River levee, which would be lined with shops, restaurants, a hotel and maybe even a movie theater. But the development group — which includes local businessmen Rick Renfro, Jon Davis and a regional retail developer — have said the area needs to receive special Downtown Lawrence commercial zoning. That would allow for downtown-like buildings to be constructed on the site, and would give the project more flexibility on parking.
To make that happen, the boundaries of Downtown Lawrence will have to officially be extended over to the North Lawrence site. Planning commissioners will consider a comprehensive plan amendment to do that, and also will consider rezoning the property.
The project — which is being designed by Lawrence architect Paul Werner — has received some good news lately. The city's planning staff is recommending approval of the downtown zoning designation. And perhaps even more significant is that Downtown Lawrence Inc. has thrown its qualified support behind the project.
Downtown Lawrence Inc. sent a letter saying it supports the idea of downtown zoning for the area, but wants the area to have a heavier residential emphasis than retail.
"We would not support this project if the development evolves into a mostly retail project," DLI's board writes.
It also would like for no single retail user to be larger than 25,000 square feet, which is different from what Werner has proposed. One concept proposed by Werner calls for a 50,000-square-foot movie theater. But Downtown Lawrence's letter said they could see some exceptions on the 25,000-square-foot limit. They mentioned a grocery store in particular, but they also expressed some enthusiasm for a movie theater.
So, there are some details to be worked out, but it looks like the project has the makings of some solid support. Kirk McClure, an urban planning professor at KU, has objected to city leaders that the development will add too much retail space in a town that struggles to support what it has. But I don't see that argument gaining much traction with this current City Commission, especially since the developers have said they don't intend to build any of this unless they first land some major tenants. In other words, they're not going to build the space and then start looking for tenants.
As for a trolley, I'm not sure you should hold your breath. But Downtown Lawrence Inc.'s letter mentioned that it will take some work to make the North Lawrence site and downtown feel like they are connected. The letter mentioned that some pedestrian improvements would be needed on the bridge — perhaps a better guardrail would be a start. People are also going to have to get used to the fact the bridge bounces quite a bit with the traffic. But the letter also mentions that some type of trolley system might be useful in shuttling shoppers back and forth between the area. I've heard the idea come up before, so who knows?
As usual, planning commissioners won't have the final say on these issues. They'll vote on a recommendation tonight, but ultimately city commissioners are responsible for the final approvals.

Planning commissioners meet at 6:30 p.m. today at City Hall.
• Also at tonight's planning commission meeting, the Lawrence Community Shelter is seeking a one-year extension for its permit to operate a homeless shelter at 10th and Kentucky streets. This isn't unexpected. It became obvious months ago that the shelter would not be ready to move into its new space near the Douglas County Jail before its current permit expires.
But unlike the previous permit renewals, the shelter does have firm date for when it will move out of downtown. Shelter director Loring Henderson told me he has circled Sept. 16 as move out day for the shelter. Shelter leaders are taking bids on the remodel work that will be done at the shelter's new site, which currently is a warehouse building. Henderson said shelter leaders and project architect Dan Sabatini currently are accepting bids to convert the facility into a 125-bed shelter. He expects the board to accept bids by late March.
"It is an exciting time," Henderson said. "We're going to be having an entirely different type of conversation this time next year."
Copyright 2017 The Lawrence Journal-World. All rights reserved. This material may not be published, broadcast, rewritten or redistributed. We strive to uphold our values for every story published.