Lawrence High's KJ Pritchard knew the scouting report on Olathe East's Kyle Smith from playing in the same AAU program during the summer.
Basically, it was this: The 6-foot Smith can shoot. From anywhere.
"Kyle's just combustible. That's just what he is," Pritchard said. "And he made us pay tonight."
LHS never could slow down Smith, who finished with 22 points on 6-for-7 three-point shooting to lead the Hawks to a 50-46 sub-state victory Thursday at LHS gym.
"We got to halftime, and we were hoping that would slow him down," LHS senior guard Logan Henrichs said, "but he just came right back out and kept going."
The Lions, who ended their season 13-8, still had one last chance to tie it trailing 49-46 with 19 seconds remaining.
LHS coach Mike Lewis said the plan was to try to get junior Jake Mosiman a three-point attempt, but East's defense disrupted the play.
After a few passes around the perimeter, Pritchard faked a shot and got his man to fly by him before hoisting up a three from the top of the arc.
The shot hit off the front rim.
"I felt really good about it," Pritchard said. "It looked good. It just wasn't meant to be, I guess."
Henrichs grabbed the offensive rebound, and he passed to Shane Willoughby, who tried a long three-point attempt from the left wing.
That shot bounced off the backboard, and East's Caelan Neal grabbed the defensive rebound before getting fouled with two seconds left.
"I felt like we were where we needed to be," Henrichs said. "We just didn't hit the shot."
Neal hit the front end of a one-and-one to end any hopes of an LHS comeback.
Photo Gallery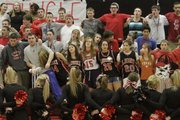 LHS boys vs. Olathe East
The Lions actually led by as many as 10 points in the first half thanks to hot shooting.
LHS took a 23-16 advantage into halftime despite not making a two-point field goal. Instead, LHS was 7-for-9 from three-point range, while Anthony Buffalomeat added the other two points on a pair of free throws.
"I thought we moved the ball well," Lewis said. "I thought everybody who stepped on the floor did a great job of filling their role."
Smith kept East in it during the second quarter — scoring all nine of his team's points — then continued his accuracy in the third quarter.
During one stretch, he scored 10 straight points to the Lions' five and cut LHS's lead to 32-31.
Smith's final three gave East a 47-44 lead with 2:35 left.
The Hawks (13-8) never trailed again.
Though Lewis instructed his players to "lean" toward Smith in their 2-3 zone, that didn't stop the junior from shooting it a few steps beyond the three-point line.
Lewis said Smith's performance had a "Marcus Denmon feel," referring to the Missouri guard who made six of nine threes — many of them from deep — against Kansas in the Tigers' 74-71 victory on Feb. 4 in Columbia, Mo.
"I'm telling you, he hit some shots that we were contesting, and we were out there," Lewis said. "You've just got to hand it to him for hitting some shots."
Henrichs led LHS with 19 points on 5-for-5 shooting. That included perfect 4-for-4 accuracy from three-point range.
Mosiman contributed 11 points, while Pritchard —who returned to action despite being bothered by a right-ankle injury — added eight.
It was the final game for seniors Henrichs, Pritchard, Buffalomeat and Troy Willoughby.
"I just can't say enough good things about our guys," Lewis said. "There's a lot of sad guys in there right now, and that just tells you that they really care about it."
Copyright 2018 The Lawrence Journal-World. All rights reserved. This material may not be published, broadcast, rewritten or redistributed. We strive to uphold our values for every story published.