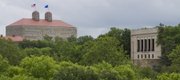 Subscribe to the email edition of Heard on the Hill and we'll deliver you the latest KU news and notes every weekday at noon.
Your daily dose of news, notes and links from around Kansas University.
• Somewhere, EcoKat is smiling.
That's because KU and Kansas State are once again entering into a competition for conservation.
They'll both be participating, once again, in the RecycleMania competition.
KU and K-State will be participating in the per capita competition, and whichever school recycles more per person than the other will be declared the victor.
KU beat KSU by about a half-pound per capita in 2010, a KU Recycling official told me, but it was reversed last year.
K-State has yet to resurrect the failed feline conservation crusader, but I'm sure it's just a matter of time.
• If you can direct institutional compliance, KU is looking for you.
I believe the director of institutional compliance is a new position in Strong Hall, and KU is hoping to find someone to "provide independent oversight and coordination of an institutional compliance program that promotes a culture of compliance and the highest standards of ethics, integrity, and responsibility within the University community."
The position, which has an advertised salary of $90,000 to $105,000, will look to identify risks and vulnerabilities across the university, according to the job description.
• Kansas Public Radio is the beneficiary of 3,700 donated classical music CDs, courtesy of Kansas City's Radio Bach, Classical 1660AM, which will change its format to business news on March 5, according to a statement from KU.
That adds to KPR's existing library of about 30,000 discs, including 20,000 classical music CDs.
Duplicate CDs will be sold at the Audio-Reader benefit sale For Your Ears Only, set for Sept. 14-15 this year.
• Tips for Heard on the Hill may not make EcoKat smile, but they'll certainly brighten my day if you'll send them to ahyland@ljworld.com.
Copyright 2018 The Lawrence Journal-World. All rights reserved. This material may not be published, broadcast, rewritten or redistributed. We strive to uphold our values for every story published.