Photo Gallery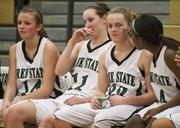 FSHS girls vs. Olathe North
Away from the program the previous two days, Bryan Duncan returned Wednesday night not only a proud father but also a satisfied coach.
His Free State girls opened sub-state in complete control and disposed of Olathe North, 57-42, at FSHS.
Duncan praised the remarkably locked-in Firebirds, and the word he couldn't stop using to describe them was: focused. He gave captains Lynn Robinson, Jackie Garcia and Kennedy Kirkpatrick, as well as assistant coaches Matt Frost and Lauren Kimball credit for having the team mentally and physically prepared.
"We were very focused from the opening tip, and you could just see it in our players' eyes," Duncan said.
Free State's determination showed in every aspect. Garcia's controlled penetration in the half court, Kirkpatrick's scoring efficiency, Robinson's defense and poise, Scout Wiebe's energy and toughness, Chelsea Casady's effort inside, A'Liyah Rogers' spark off the bench — it all added up to earn the Firebirds a spot in their bracket's title game Friday night.
All that stands in front of the Firebirds' returning to the state tournament — they last went in 2010 — is Olathe South, which beat Lawrence High, 58-32, Wednesday night. And don't think for a second that a potential rematch with O-South, which beat Free State on a three-pointer as time expired on Feb. 10, didn't contribute to the Firebirds' focus against O-North (8-13).
Said Robinson, who scored 11 points and had four rebounds: "We've been looking forward to Olathe South ever since they beat us with that buzzer-beater, and we had to stay focused tonight."
The incentive did Free State well. The Firebirds (16-5) didn't turn the ball over in the first quarter, and scores from Kirkpatrick, Robinson, Wiebe and Rogers gave the home team a 15-9 lead.
Then came the second quarter, when Kirkpatrick helped the Firebirds establish a 14-point halftime lead with 11 second-quarter points on 4-for-6 shooting. Duncan remarked it was nice to be able to "sit and watch" as the junior guard, who finished with 21 points and four steals, helped Free State take control.
"That was as focused, to use that word again, as we've seen her all season," the coach said of Kirkpatrick, "and she was really good on both ends of the floor."
The best part of Kirkpatrick's production, Robinson added, was the impact it had on the rest of the Firebirds.
"She's so confident with everything she does and that spreads throughout the whole team," Robinson said. "When she's hitting shots, we all just start nailing them."
While Kirkpatrick had 11 of Free State's 16 points in the second, that theory showed true in the third, which FSHS entered with a 31-17 lead. Casady, Rogers and Wiebe joined the lead guard in the scoring column as Free State took a 45-25 lead into the fourth.
Free State's biggest concern against the Eagles was 6-foot-3 junior forward Jessica Sheble, and though she finished with 15 points, Casady and Wiebe made her earn them.
Said Kirkpatrick: "Both of them had a really great game defensively."
Their post defense was needed, too, with FSHS junior Abbey Casady in Texas for a choir event.
Wiebe, Abbey's replacement in the starting lineup, went for seven points and nine rebounds. Already shorthanded, Free State's available regular rotation players shrunk to five in the third quarter, when Sheble caught Wiebe with an elbow under the sophomore's left eye.
Even though the game got physical in the second half, Kirkpatrick said the Firebirds didn't get frazzled.
"I think it was nice having that big lead and having that cushion the whole game," she said, "because we knew that we just needed to keep the ball and keep our composure and get that win."
O-North opened the fourth quarter with a 7-0 run, but a bucket and free throw by Chelsea, who finished with eight points, put a stop to the bleeding.
At 5:30 p.m. Friday at Leavenworth High, Free State will face O-South in a sub-state championship game.
— Check out Benton Smith's "Prep Appraisals" from the game.
Copyright 2018 The Lawrence Journal-World. All rights reserved. This material may not be published, broadcast, rewritten or redistributed. We strive to uphold our values for every story published.