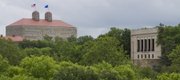 Subscribe to the email edition of Heard on the Hill and we'll deliver you the latest KU news and notes every weekday at noon.
Your daily dose of news, notes and links from around Kansas University.
• UPDATE: Since this post first appeared, KU Law officials provided me with updated figures on their student debt. They changed methodologies recently, which resulted in a new figure for their debt that is higher, but the school believes it's also more accurate. It reports the average debt for members of the graduating class who have debt was $67,598.
It's a difficult market for lawyers these days, as many folks are aware. I've got law schools and student debt on the brain as I'm preparing to write a story on KU's efforts to help provide resources for students interested in careers in rural areas or striking out and forming their own solo law firms.
Here's something I'd missed until recently while poking around for that story. The KU School of Law is seventh lowest in the country in terms of the lightest average student debt load carried by students, among the 191 schools that reported the data to U.S. News and World Report. At $41,574 in 2011, it's still nothing to sneeze at, but it's certainly a lot better than the school with the highest amount of average debt.
That would be the California Western School of Law, coming in at $153,145.
KU is also well below the average student debt level for students leaving law school, which is around $100,000.
• Every election season, it seems like at least a small handful of ambitious and young KU students file for political office, usually at their home residences.
I remember a friend of mine did just that when I was in school. He didn't do much campaigning, though, and wound up getting waxed in the general election.
Mitchell Rucker, a sophomore from Burdett, is running in the Republican primary election for the 117th Kansas House of Representatives District. I spotted Rucker's candidacy in the Kiowa County Signal. In an interview with the newspaper, the political science and economics major said he'd thought about this before.
"I've always planned on [running for office] at some point," he told the paper. "It may be sooner than I had planned on, but I think things are going to work out. I have a strong group of supporters here at the university that have advised me. I have some other people back there that have shown me some support as well. I think it is a learning process, not having done this before, but I think I'll be able to rise to meet the challenge."
The whole redistricting mess probably shook up the political landscape more than usual this year.
If anyone knows of any other KU students running for political office this year, I'd be interested in finding out who they are and where they're running, so drop me a line.
• The Supreme Court got quite a bit of attention Thursday in the aftermath of its major health care decision, and so did Supreme Court scholars.
Count retired KU psychology professor Lawrence Wrightsman among them.
He studied Supreme Court decision-making, and was interested in a variety of topics, including predicting how the court would vote.
He was quoted in this publication from Georgia that focuses on the legal community. The article calls Justice Antonin Scalia to task for his demeanor on the bench.
The author talked about how Scalia's flippant manner and caustic wit have earned him a few enemies along the way.
Scalia, now 76, might just be happy to let it rip, Wrightsman suggested.
"He's just letting it hang out," he said. "Everything is so adversarial now, and he is letting the belligerent aspect of his nature come out."
• Whenever you submit a tip for Heard on the Hill to ahyland@ljworld.com, Antonin Scalia does a little happy dance. At least, that's what I've heard.
Copyright 2018 The Lawrence Journal-World. All rights reserved. This material may not be published, broadcast, rewritten or redistributed. We strive to uphold our values for every story published.