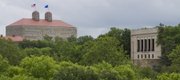 Subscribe to the email edition of Heard on the Hill and we'll deliver you the latest KU news and notes every weekday at noon.
Your daily dose of news, notes and links from around Kansas University.
• Food tastes better when you grow it yourself, or so say KU students involved in a student farming project north of the city.
The University Daily Kansan provided an update to a story about a student farm at KU that I first wrote about in 2010.
The Kansan reports that since the original five people began working a single plot of land near the Lawrence Municipal Airport, the project has expanded to more than 50 plots.
About 100 students, faculty and staff are involved, Kim Scherman, a recent KU graduate from Eudora and the farm's facilitator, told the Kansan.
Plots cost $30 (though $20 of that is refundable at the end of the year) and people who want to participate can contact farming officers at kufarming@gmail.com, the Kansan reported.
• The KU School of Pharmacy has elevated Brian J. Barnes to the position of associate dean for academic affairs at the school, replacing Ron Ragan, who left the school to become dean at a new school of pharmacy in High Point, N.C.
Barnes had been promoted to associate professor with tenure in 2009 after joining the faculty in the school in 2002. He's also a former student, earning his doctor of pharmacy degree from KU.
Barnes' promotion comes with a little bit of administrative reshuffling in the school, as Gene Hotchkiss, the former associate dean of administration, will become senior associate dean. Clinical Assistant Professor Joe Hedrick has been named assistant dean of experiential learning and director of finance and human resources Cheryl Holcomb was named assistant dean.
• Two KU juniors have been selected to participate in a 10-week Coro Kansas City internship program.
Justin Christian and Hannah Sitz are among 12 college students in the internship, which is offered through a partnership with Park University's Hauptmann School for Public Affairs.
All of the 12 interns are assigned an individual internship in each of the five sectors of business, government, labor, media and nonprofit organizations.
Coro was started in San Francisco in 1942 with the goal of training young veterans in the leadership skills necessary to assure that the "democratic system of government could more effectively meet the needs of its citizens," according to a statement I saw announcing the internships. The program has expanded to six cities now, including Kansas City.
• Heard on the Hill tastes better if you help it grow, too, by sending in your tips to ahyland@ljworld.com.
Copyright 2018 The Lawrence Journal-World. All rights reserved. This material may not be published, broadcast, rewritten or redistributed. We strive to uphold our values for every story published.