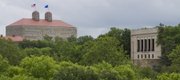 Subscribe to the email edition of Heard on the Hill and we'll deliver you the latest KU news and notes every weekday at noon.
Your daily dose of news, notes and links from around Kansas University.
• Here's a little something I spotted from US News and World Report's "The Short List" feature. It's "a regular series that magnifies individual data points in hopes of providing students and parents a way to find which undergraduate or graduate programs excel or have room to grow in certain areas.
Tuesday's feature ranked the nation's medical schools in an effort to determine which one was the most popular.
To do that, the magazine took a look at the yield rates around the nation. That's the number of students who are admitted that actually enroll.
And, what do you know, KU Medical Center shares top billing in that area with the Center for Health Sciences at Oklahoma State University. Both had a pretty high yield rate of 85.7 percent for the 2011-12 school year.
KUMC accepted 223 students last year, and 191 of those wound up enrolling.
The magazine points out that budgets may be playing a role here, as many universities are limiting class sizes as their fiscal situations worsen.
• The Spencer Museum of Art is scheduled to screen the movie "Codebreaker" at 6 p.m. this evening, with a brief introduction beforehand.
The film coincides with what would have been the 100th birthday of Alan Turing, the British mathematician, logician, cryptanalyst (there's a fun word) and computer scientist. The code-cracker helped the allies win World War II, and was persecuted by the British government for his homosexuality, ultimately committing suicide in 1954.
The event coincides with the Spencer's "Cryptograph: An Exhibition for Alan Turing" exhibit.
• David Ekerdt, a sociology professor and director of KU's gerontology center, got a mention in US News and World Report recently, in an article talking about how to coordinate retirement with your spouse.
Paying attention to the eligibility ages for retirement plans — including Social Security — can help couples maximize their benefits, he said in the magazine.
"Claiming early will lock your surviving spouse into a lower benefit for the rest of his or her life," Ekerdt said. "If one can continue to work, the monthly checks are larger the longer one waits past 62, and it protects your spouse's income after you have passed away."
He also suggested taking time to discuss health issues.
"This is the time to talk about issues regarding preferences for medical treatment and even for body disposition after death, and how the other should go forward if something were to happen to me," he told the magazine.
• It doesn't take a cryptanalyst to decode this message: keep sending your tips for Heard on the Hill to ahyland@ljworld.com.
Copyright 2018 The Lawrence Journal-World. All rights reserved. This material may not be published, broadcast, rewritten or redistributed. We strive to uphold our values for every story published.