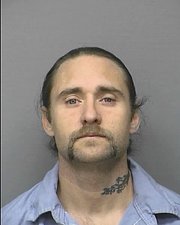 Joseph W. Lipp, convicted of drug possession and manufacturing, obstructing the legal process, and assaulting a police officer in Douglas County in 1993, is eligible for parole in August. Lipp, 44, also has a 1986 Douglas County robbery conviction.
The Kansas Prison Review Board will hear public comments on Lipp's case, as well as 19 other convicts eligible for release in August. The board uses input from the public and victims in the cases as part of its decision. The public can also call or mail in comments. Lipp has been paroled twice, in 2003 and 2005, but violated parole and was sent back to prison.
The last of three public comment sessions will be held Thursday:
• 8:30 a.m. to 10:30 a.m., Landon State Office Building, 900 SW Jackson, Topeka.
For full list of inmates eligible for parole and for contact information, visit the comment list website.
Copyright 2018 The Lawrence Journal-World. All rights reserved. This material may not be published, broadcast, rewritten or redistributed. We strive to uphold our values for every story published.