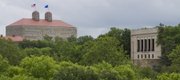 Subscribe to the email edition of Heard on the Hill and we'll deliver you the latest KU news and notes every weekday at noon.
Your daily dose of news, notes and links from around Kansas University.
• Here's an interesting little tidbit from Science magazine that gets into the black market for fish specimens.
According to the article, Andrew Bentley, who manages the fish collections for KU's Natural History Museum, got an email about 10 years ago from a person who identified himself as Mohammad Haq, director of the Life Science Museum in Jhansi, India.
Apparently, the museum had been destroyed in a fire, Haq wrote, and he wanted to rebuild.
Bentley sent 36 "surplus specimens" before another email arrived.
"The specimens had never arrived, Haq wrote, could Bentley please send more?" the article reads. "Perplexed, Bentley asked for more details, did an Internet search and asked colleagues if they had heard of the Life Science Museum. 'I couldn't find anything,' he recalls. And Haq never replied."
Apparently, curators around the world are beginning to think these folks are trying to gain fish specimens and then resell them later to schools and training programs.
I'll resist using a "smells fishy" pun, but who knew there was a black market for fish specimens?
• I visited KU Medical Center's shiny new research building in Fairway last week to get some more information about their Alzheimer's Disease Center led by KU neurologists Jeffrey Burns and Russell Swerdlow.
I was interested by their research, which is trying to solidify the role exercise and metabolism plays in preventing and treating the disease that affects an increasingly sizeable number of our aging population.
But they were also a rather amusing team. They talked about their (successful) application for designation as a National Alzheimer's Disease Center, which they said has some parallels to the National Cancer Institute designation.
For an institution that receives designation in both cases, it means that the federal government has indicated the research an institution is doing is top-notch, and both designations mean additional grant funding for an institution that receives the prize. In this case, the National Institute on Aging has recognized the Alzheimer's Center as doing great work and it will be getting some more funding in the future.
The governor didn't come out when they submitted their application, though, Burns and Swerdlow told me. It was just the two of them making copies at a Kinko's. When it was done they decided to celebrate by going to Subway.
On second thought, they decided, this was a big deal. Maybe they should aim a little higher.
So they ate at a Quiznos.
More to come on their research in our big KU Today edition that comes out near the beginning of the school year.
• The Kenneth Spencer Research Library's blog marked the occasion of Bloomsday over the weekend.
James Joyce's novel "Ulysses" is set on June 16, 1904, and fans mark the date all around the world, commemorating protagonist Leopold Bloom's tromp around Dublin.
Irish literature, and Joyce in particular, is a major strength of the Spencer library, so they trotted out a few photos of some old Joyce tidbits, which are rather interesting to peruse if you're into that sort of thing.
• Don't send me any fish specimens, please. Just tips for Heard on the Hill, which you can drop in my virtual inbox at ahyland@ljworld.com.
Copyright 2018 The Lawrence Journal-World. All rights reserved. This material may not be published, broadcast, rewritten or redistributed. We strive to uphold our values for every story published.