Wes and Susan Dalberg said there's a lot about leading the Salvation Army in Lawrence that they'll miss.
The holidays are one, for sure, Susan said, with the toy shop program and turkey distribution. Wes said he'll miss the people and being connected to Kansas University.
The couple have led Lawrence's Salvation Army since 2005, and will be leaving to take on a similar position in Decatur, Ill.
"Even when I go to Decatur, my full room of KU stuff will still be a full room of KU stuff," Wes said. "None of that Illini stuff."
The couple met while attending a training session for Salvation Army officers.
"Thirty-three years later, here we are," Susan said. "And we still like each other."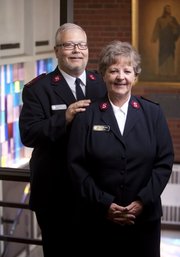 She said the couple began their careers as officers in the Salvation Army before stepping away from the profession for 22 years. They came back, though.
"It's a lot more fulfilling doing what God called you to do," Susan said. "There are days that you ask, 'Why did I do this?' But not many."
A reception for the Dalbergs is scheduled from 5 p.m. to 6:30 p.m. Thursday at the Salvation Army, 946 N.H. A farewell service for them is set for 10:45 a.m. June 24 at the Salvation Army. The new corps officers, Matthew and Marisa McCluer, are scheduled to begin in their new positions June 26.
Susan Schneweis, chairwoman of the Salvation Army's local advisory board, said the Dalbergs have been excellent corps officers.
"We're very, very sorry to see them leave," she said.
She said the Dalbergs were good at keeping lines of communication open with the Lawrence community and working with a diverse group of people.
"The new people have some pretty darned big shoes to fill as far as keeping up with all of that," Schneweis said.
Wes recalled how the decision to close down the Salvation Army's homeless shelter wasn't an easy choice. The decision let the Lawrence Community Shelter take over the responsibility for providing the service for the city's homeless. Today, however, the Salvation Army still offers a wide range of social services and is beginning a new permanent supportive housing program, funded by a $400,000 federal grant.
The program would provide five units of housing for families and five units for individuals through local landlords, Wes said. People will pay rent on a sliding scale based on their income, but people won't be turned down based on inability to pay, Wes said.
The couple had originally hoped to stay on another year before being transferred to help with a new building project. The Salvation Army has expressed interest in moving to property it owns near Haskell Avenue between 15th and 19th streets. If $4 million in funds could be raised for that project, the Salvation Army has expressed interest in selling its building on New Hampshire Street.
"I really, really believe it's a doable thing," Wes said. "You ask me what I base that on, and I base that on more than six years of being in Lawrence. I just believe the people here are very generous and compassionate."
Copyright 2018 The Lawrence Journal-World. All rights reserved. This material may not be published, broadcast, rewritten or redistributed. We strive to uphold our values for every story published.