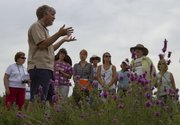 Johanna Mehl and Nici Ashner are textiles majors at Kansas University. But textiles majors or not, they spend a lot of time gardening.
Mehl and Ashner tend plants that produce dyes: sunflowers, indigo flowers and madder. These plants and many others are cultivated by KU students at the Native Medicinal Plant Research Garden, which had its annual public tour Saturday.
The medicinal garden is a part of the KU Native Medicinal Plant Research Program. About 80 people came to the two-hour tour.
"There were people milling around before I even got here," said Kelly Kindscher, a professor of environmental studies, who led the tour. "We're really pleased that we now have something the public is appreciating and people are coming out."
In addition to being excited about the turnout, Kindscher was also excited about the research program's recent discovery. In March, the program found new compounds in a native plant called the wild tomatillo. The compounds have been proven to reduce cancer tumor size. The tomatillo is just one shining example that plants have value, Kindscher said, and there are many others. And he hoped people would walk away with greater awareness about how plants can be used.
One such person was Seth Cole, who has a garden at home chock-full of tomatoes, okra and vines.
"I've been really into gardening, and obviously the benefits of that are immediate; you see the food, but this is more in-depth study," Cole said. "It's kind of neat to be able to identify a wild plant and know what it can do."
Copyright 2018 The Lawrence Journal-World. All rights reserved. This material may not be published, broadcast, rewritten or redistributed. We strive to uphold our values for every story published.