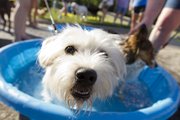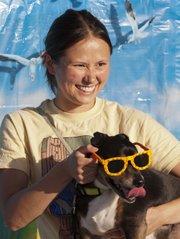 There was the smell of barbecue, the sound of David Bowie covers and the sight of children jumping in a bounce house. There were also 54 dogs.
Dogs were weaving through owners' legs and tugging at the ends of leashes. It seemed like nearly every breed of dog was represented at Friday's Mutt 'N Strut and Barkarusafest, a dual event hosted by the Lawrence Humane Society and Pawsh Wash, 1520 Wakarusa Drive.

"I am thrilled at the turnout, I am thrilled with the weather ... and I just think we're all having a great time on Friday night," said Amber Nickel, co-owner of Pawsh Wash.
There were plenty of dogs present.
But there were also plenty of people. Among them was dog owner Jennifer Isaacs, who brought Peanut and Red. Red was a rescue from the Humane Society. Isaacs adopted him so Peanut could have some company. And it seemed only fitting for her to come to Mutt 'N Strut in support of the Humane Society, Isaacs said.
Isaacs is a dog lover and she actively sought out the event or one like it, eager to be a part of Lawrence's dog community. Normally Isaacs shies away from giant social gatherings, but when they're filled with dog people, it's a different story.
"I always try to come to all of these dog events," Isaacs said. "I thought this would be great chance to give back, especially since I got (Red) at the Humane Society. He came trained ... and he's been so fun. They run around in circles chasing each other all day."
Dustin Walker and his wife, who have volunteered at the Humane Society for the last couple of years, said the best part of Mutt 'N Strut was the diversity on display. And the Walkers have seven dogs of their own on display at home.
For Nickel, one of the event's organizers, Barkarusafest was a success. She hopes that it and events like it will strengthen Lawrence's dog community.
"The reason that we do this kind of stuff is that (we) want Lawrence to be the best place in the world to have a dog," Nickel said. "All of the businesses that have come together, all of the people gathering so that we can all have a good time on a Friday night, listening to music and hanging out with our best friends and our kids ... it just makes me happy. Pure joy."
Copyright 2018 The Lawrence Journal-World. All rights reserved. This material may not be published, broadcast, rewritten or redistributed. We strive to uphold our values for every story published.