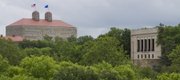 Subscribe to the email edition of Heard on the Hill and we'll deliver you the latest KU news and notes every weekday at noon.
Your daily dose of news, notes and links from around Kansas University.
• Here's an update to a story I wrote about back in 2010, when KU (and 26 other schools) filed a brief in support of the University of Alabama in a trademark lawsuit against an artist who painted players in full football uniform without permission from the university.
"We just believe that we should support our fellow universities when they are in trademark licensing issues with individuals who we believe don't want to play by the rules," KU Associate Athletic Director Jim Marchiony told me at the time.
A federal appeals court this week came down on the side of the artist, the Chronicle of Higher Education reported, and ruled that the portraits and other images were protected by the First Amendment.
It's a pretty involved case, considering that the artist, Daniel A. Moore, had been selling the paintings since 1979, but the university first attempted to make him pay licensing fees in 2002.
The court was less clear on how the rules applied to "mundane products," like mugs, cups, flags and T-shirts, the Chronicle reported.
The newspaper also reported it's unclear how this verdict will affect other universities, given the pretty specific circumstances in the case.
• The University Daily Kansan filed this report on a university tradition that goes back to 1873.
Apparently, the Class of 2012 decided early on they wanted to feature the 1912 Jayhawk for the design's 100th birthday this year.
The newspaper reported the class decided on a new wall mosaic in the Underground at Wescoe Hall.
Tina Murano, a mosaic artist from Wichita with a daughter currently attending KU, designed the newly-installed piece of art in the high-traffic location.
Historically, class gifts have taken the form of everything from trees to flagpoles to scholarships. Here's a list of them, courtesy of the KU Endowment Association.
• I don't know too much about this, having only spotted it in the late afternoon on the freshly released agenda for the Kansas Board of Regents, but it looks like KU is hoping to complete a five-year upgrade around Jayhawk Boulevard, at a total cost of about $10.95 million, funded with state money that is earmarked for university repair and rehabilitation projects.
The upgrade looks like it'll have a variety of different features, including replacement of deteriorated water lines, installation of a stormwater system, reconstruction of the street and sidewalks along with landscape and streetscape improvements.
If I hear more, I'll let you know.
• If you're in a giving mood (even if you're not a member of a graduating class), feel free to go ahead and drop me a tip for Heard on the Hill to ahyland@ljworld.com.
Copyright 2018 The Lawrence Journal-World. All rights reserved. This material may not be published, broadcast, rewritten or redistributed. We strive to uphold our values for every story published.