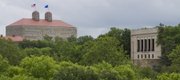 Subscribe to the email edition of Heard on the Hill and we'll deliver you the latest KU news and notes every weekday at noon.
Your daily dose of news, notes and links from around Kansas University.
• I always worried this was true, and now comes new research from KU psychologist Omri Gillath that apparently confirms it. Apparently, you can tell quite a bit about people just by looking at their shoes.
Gillath and his colleagues' research was published in the Aug. 2012 edition of the Journal of Research in Personality, and I found it after spotting this write-up of the research in the online publication Medical Daily. Apparently, 63 students looked at photos showing 208 different pairs of shoes belonging to volunteers in the experiment, who provided their favorite pair for the study.
The students were then asked to guess the participants' gender, age, social status, and other personality traits, like whether the person was an introvert or extrovert, liberal or conservative and a whole host of other traits, too.
The observers did pretty well, it turned out, and the researchers decided that we do wear shoes that reveal our personalities, whether we intend to or not, Medical Daily reported.
Fellow reporter George Diepenbrock pointed out that this area of study had already been covered before by Forrest Gump's mother, recalling the movie character's line:
"My momma always said you can tell a lot about a person by their shoes, where they go, where they've been."
Also, just so you can get to know me a little better, I included a photo of the shoes I happened to be sporting yesterday. George (not a professional fashion photographer, but more than capable), volunteered to take the photo. So now you should know all there is to know about your loyal correspondent. Don't judge me too harshly.
• Last year at about this time, there was some hemming and hawing up on the hill as the federal government unveiled its first list of costliest colleges.
KU turned up somewhat unexpectedly at No. 17 in the country on a list of four-year public schools with the highest "net price," a figure arrived at by subtracting the average amount of federal, state/local government or institutional grant or scholarship aid from the total cost of attendance.
KU officials said the school made a data reporting error, and didn't report all the sources of financial aid the government asked for last year. That error artificially inflated the net cost by about $3,300. The actual figure for last year, KU officials said was $13,940, which was still about 23 percent above the $10,747 national average.
The federal government's lists are out again this year, and KU isn't among the four-year public schools with the highest net costs.
Here's the page of data for KU. It shows a net cost of $14,768 for the 2010-11 school year, the most recent data given on the page. That's still well above the national average of $10,471, but enough to keep KU off of the "costliest" list, which starts at around $16,187.
• All I had to do was mention a summer trip KU music students took last year in Heard on the Hill yesterday, and then today comes news that it's happening again.
Students at the KU School of Music will be headed back to Eutin, Germany for a summer music exchange started last year, according to a KU statement.
Going on the trip will be Robert Walzel, dean of the KU School of Music; David Neely, KU's director of orchestral activities; and 33 student vocalists and instrumentalists.
The students will participate in the festival from Friday until Aug. 20, performing three operas: "Nabucco," "L'Elisir d'Amore" and "Die Blume von Hawaii," along with two orchestral concerts and two chamber concerts.
• If I could see your shoes, you wouldn't need to send me a tip for Heard on the Hill to ahyland@ljworld.com, because I'd probably be able to guess it based on your footwear. But given that I can't, I'd appreciate if you'd go ahead and send them along.
Copyright 2017 The Lawrence Journal-World. All rights reserved. This material may not be published, broadcast, rewritten or redistributed. We strive to uphold our values for every story published.