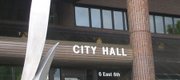 Subscribe to the email edition of Town Talk and we'll deliver you the latest city news and notes every weekday at noon.
News and notes from around town:
• Read into this what you will, but usually I don't start thinking about Lawrence city commission candidates until I start seeing Thanksgiving turkeys for sale in area grocery stores.
No, that's not some symbolic message (at least I don't think it is), but rather Thanksgiving is about the time the talk really heats up on potential candidates for commission seats. Every two years — the odd-numbered ones — there is a City Commission election in April, which makes November and December of even-numbered years a popular time for candidates to file.
Well, I don't think I have a Thanksgiving turkey in my freezer yet (although there are a couple of unidentified objects in there), but I think I soon will have a City Commission candidate to cover.
My understanding is Scott Criqui, who has been active in city government as a Human Relations commissioner, likely will file soon for one of three spots on the Lawrence City Commission.
Criqui is the human resources manager for Lawrence's Trinity In-Home Care. But he may be best known in Lawrence political circles for his work to promote issues dear to the lesbian, gay, bisexual and transgender community. Recently, Criqui was a major force in adding protections to the city's anti-discrimination code for people who are transgender.
It has not been a well-kept secret Criqui is interested in a City Commission seat. Criqui has talked to dozens upon dozens of folks in Lawrence political circles about the position. In fact, some sources tell me there have not been many candidates who have done more research about the position than Criqui has.
As always, three of the five commission seats are up for election. Seats held by Commissioners Mike Amyx, Hugh Carter and Aron Cromwell are up this time. All of Lawrence's commission seats are at-large, meaning candidates only have to live inside the city limits, not within a particular district of the city.
I have heard a couple of other names who may be interested in commission seats, so I'll ask around and report back. I guess it is time to start thawing the turkey.
• I don't think you can buy a turkey at the Wakarusa Market Place — the shopping center at the southeast corner of Wakarusa and Bob Billings. But you can get lots of other things there, assuming that you can get to the center.
But as we previously reported, a plan to rebuild Wakarusa Drive both north and south of Bob Billings will severely limit access to the shopping center for several months this summer and fall.
Well, that was the plan anyway. City commissioners at their meeting tonight are expected to delay the Wakarusa re-build until May 2013 after hearing concerns from several businesses in the Wakarusa Market Place.
The shopping center currently has several new businesses, which has created concern the road project may hurt the businesses at a critical time in their development. In case you are having a hard time picturing the place, it has Bambino's Italian Cafe, Title Boxing Club, the Shenago Lounge and several other establishments. (I knew the Shenago would jog your memory. You did what there?)
City officials apparently are swayed by the argument because staff members are now recommending the road project begin work in late May — following KU graduation — and hopefully be completed by Aug. 1 so the businesses will have full access once students arrive back in town.
The $1 million road project originally was scheduled to begin construction this July and likely stretch into September. It sounds like the plan, though, still will involve closing Wakarusa Drive to through traffic. In other words, the portion of Wakarusa Drive under construction will be entirely closed to traffic, creating a north half and a south half of Wakarusa Drive. Motorists who need to get through will have to take a detour on side streets.
• The Wakarusa project now will be added to the fun motorists will have in 2013.
When we're talking about fun, nothing says it quite like tearing up the city's busiest north-south corridor. As we have reported many times, Iowa Street from the Irving Hill Overpass to just south of Harvard Road will be completely rebuilt.
City officials now are wanting to talk to anybody and everybody about what will be included in the project — which also will include some major improvements to the 15th and Iowa Street intersection. The city will host a meeting from 5:30 p.m. to 7 p.m. on June 21 at Fire Station No. 5 at 19th and Iowa to discuss the plans for the project. Property owners along the route are particularly encouraged to attend to find out about issues such as access to their properties during the project.
The project is expected to begin in February and be completed by the end of 2013. Plans call for one lane of traffic in each direction to be open throughout the project.
• If there is some road in the city you would like to have torn up, tonight would be a good night to come and make your case to city commissioners.
Commissioners at their weekly meeting will ask for public comment about ideas related to the 2013 budget. So, you can tell commissioners what new projects or services you would like to see in the city's budget. Or, you can tell them what you would like to see less of in the city budget.
In the past, we have heard everything from more paint for crosswalks to proposals for ice rinks. But usually, we don't hear much at all. To read the LJWorld message boards, complaining about City Hall is a hobby of many. But it seems when folks are required to stand behind a lectern and give their names, the enthusiasm wanes.
Geez, if a lectern really does stop complaints, I'll soon have one installed in my home.
Commissioners meet at 6:35 tonight at City Hall.
Copyright 2018 The Lawrence Journal-World. All rights reserved. This material may not be published, broadcast, rewritten or redistributed. We strive to uphold our values for every story published.