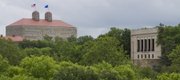 Subscribe to the email edition of Heard on the Hill and we'll deliver you the latest KU news and notes every weekday at noon.
Your daily dose of news, notes and links from around Kansas University.
• David Neely, director of orchestral activities and associate professor of conducting at KU, has been named as the Des Moines Metro Opera's first music director and principal conductor, effective Sept. 1, according to a statement from the KU School of Music.
Neely, who will continue his work as an associate professor at KU in his new role, has been the Bruno Walter Associate Conductor with the Des Moines Metro Opera since 2010.
He will conduct two main stage productions each season. This year, it will be Mozart's "Don Giovanni" and Tchaikovsky's "Eugene Onegin." Neely's experience includes 11 years with opera houses and orchestras in Germany. Last year, he accompanied a group of KU School of Music students to perform in the summer festival of Eutin, Germany, which is one of Lawrence's sister cities.
• Paul Atchley, a KU associate professor of psychology, will lead a talk about the how our brain interacts with all those smartphones, tablets and the other gizmos in our lives at 7:30 this evening at Free State Brewing Co., 636 Mass.
He'll talk about some of the costs associated with living in such a "wired" kind of society.
Atchley, who has also done a lot of research into the extent to which using a cellphone while driving is dangerous (hint: it's pretty dangerous), is speaking on the topic as part of the KU Natural History Museum's Science on Tap series.
The next installment of the series is scheduled for 7:30 p.m. July 10, and will focus on the impact of extreme weather with Nate Brunsell of the KU geography department.
The talks are free to attend and open to the public.
• And finally, a quick update to the story I first reported yesterday, about Sloane Lewis winning the Miss Kansas pageant over the weekend, and fellow KU student Brooke Taylor finishing first runner up.
As I learned on Monday, KU wasn't the only connection between the two of them. They actually attended the same sorority, Alpha Chi Omega, and worked together over the past year to prepare for the pageant. So pretty spiffy for them that they finished first and second.
Also, I learned that KU had one other participant in the pageant, Kaiti Hemann, a Hugoton junior who is majoring in applied behavioral science with a minor in dance. UPDATE: And add to that list of KU students participating in the competition at least one more: Megan Bancroft, the current Miss Lawrence-Jayhawk title holder. UPDATE II: OK, well, apparently, I definitely need to do more looking into this before I go naming a bunch of KU people who participated in the Miss Kansas contest. Because I neglected to mention Angela Thomas, Miss Sunflower. She graduated from Bishop Seabury Academy, and is a KU sophomore majoring in microbiology with a minor in music. She was a top 10 finisher at the pageant this year, and won outstanding vocalist and preliminary evening gown awards.
• Heard on the Hill is always good for your brain, and don't let anyone tell you otherwise. Help keep it that way by sending me your tips at ahyland@ljworld.com.
Copyright 2018 The Lawrence Journal-World. All rights reserved. This material may not be published, broadcast, rewritten or redistributed. We strive to uphold our values for every story published.