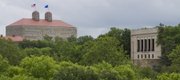 Subscribe to the email edition of Heard on the Hill and we'll deliver you the latest KU news and notes every weekday at noon.
Your daily dose of news, notes and links from around Kansas University.
• Neal Kingston, a KU professor who is administering the largest grant the university has ever received, was featured in a Chronicle of Higher Education article recently about cheating in online classes.
The article described a method students employed to get around actually learning the information covered on tests for online classes. The five students used a Google Doc (a shared word processing file that they all could simultaneously access and edit online) to upload the correct answers to the test, which used a small question bank.
Kingston is in the test-developing business, leading a $22 million grant to come up with a new system of teaching and testing for special education students.
And part of coming up with a new way of testing is to stave off potential efforts at cheating.
Last month, about 100 researchers came to KU for the Conference on Statistical Detection of Potential Test Fraud.
Kingston told the Chronicle that groups that offer standardized tests, companies that are developing anticheating software and researchers need to join forces in the effort to curb cheating.
"Historically, this kind of research has been a bit of a black box," Kingston told the Chronicle. "It's important that the research community improve perhaps as quickly as the cheating community is improving."
And, as a bit of an aside, William Lounsbury, the photographer who shot the photo of Kingston for the Chronicle, also showed a couple of amusing outtakes of the photo shoot on his blog here.
• A 20-year-old KU student studying political science and international studies was named as Miss Kansas 2012 on Saturday at the annual competition in Pratt.
Sloane Lewis, of Norwich, will be the first in her family to graduate from college, according to her online bio, and was the first black student to graduate from her high school.
Her bio also outlines a wide array of interests. She played the piano for her talent in the competition, and also apparently has the first 120 digits of pi memorized.
Lewis plans to attend law school after her KU career.
KU was well-represented at the competition, as the first runner-up — Brooke Taylor of North Platte, Neb. — was also a KU student.
• A statement from the Kansas Department of Insurance provides another reminder that scholarships can come from all sorts of places if you know where to look.
Apryl Tillman, a KU senior, and Daniel Jones, a KU junior, were among five Kansas college students who received $1,000 scholarships courtesy of a legal settlement involving a national discrimination suit against Monumental Life Insurance Co.
Black students in Kansas interested in applying for the scholarship in the future can do so here. Students must be majoring in mathematics, computer science or business with emphasis in accounting, economics, finance or investments.
• No need to cheat if you're ever faced with a test question about how to submit tips for Heard on the Hill. By now, you should know all you have to do is drop me a line at ahyland@ljworld.com.
Copyright 2018 The Lawrence Journal-World. All rights reserved. This material may not be published, broadcast, rewritten or redistributed. We strive to uphold our values for every story published.