Pit bull terriers, with their bad-boy reputation, are not always the easiest dogs for the Lawrence Humane Society to find homes for. But Brenda Gadd, a volunteer photographer for the Humane Society, is working hard to change that by showing the sweeter side of pit bulls and all the other pets in the shelter that are hungry for a home.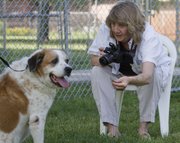 Every week, Gadd goes to the shelter and snaps endearing portraits of animals newly available for adoption, pictures the agency uses on websites and in advertisements to find homes for the pets. When Gadd picks up her camera and starts clicking away, her aim is to not only capture the animal's likeness, but also its personality. Often, the creativity of her portraits makes the difference between an animal languishing in the shelter and it being adopted.
Take the case of a pit bull that Gadd was tasked with photographing. Knowing that many people think of these strong dogs as killers, Gadd decided to show how docile, calm and accommodating this pup was by dressing him up in a pair of sunglasses sporting red flames.
"He was out of there so fast! He was adopted almost instantly," Gadd remembers.
Gadd's work with the Humane Society earned her the agency's nomination for the Wallace Galluzzi Outstanding Volunteer of the Year Award, given annually by the United Way Roger Hill Volunteer Center.
Gadd didn't initially come to the Humane Society intending to become an Annie Leibovitz for cats, dogs, bunnies, rats and all other critters. Fortuitously, she was volunteering at the shelter one day in 2009, exercising dogs, when, she says, "I saw people trying to take a photo of a dog who didn't want his photo taken, and all they had was this little bitty, pitiful camera. I thought, 'I bet I can help.'"

She came back the next week with her professional camera, asked if she could take a series of shots of a puppy, and showed her portraits to the staff. They liked what they saw, and since then Gadd has donated about 10 hours a week taking and editing pet portraits.
Getting a good shot of pets is not easy, says Maggie Cargill, volunteer coordinator for the Humane Society — "Animals won't smile for the camera."
So Gadd resorts to all sorts of antics to get a pet's best pose, such as offering treats and amusing them with squeaky toys. "I make funny noises, and I sing strange songs, and they will look at me in a peculiar way that says, 'Let's get away from this woman; she is clearly not right.'"
It may be a bit humiliating, but the approach works.
"The term 'sense of humor' describes Brenda to a tee," Cargill says. "Her good humor and great photos have earned her the love of the Humane Society staff and the pets alike."
Cargill says the Humane Society relies on volunteers to do everything from exercising dogs, socializing cats and providing foster homes for animals to working at off-site adoption events and assisting with fundraisers, such as the Mutt 'n' Strut at Barkarusa Fest on June 15. For information on volunteering, visit lawrencehumane.org.
— Micki Chestnut is associate director at United Way Roger Hill Volunteer Center.
Copyright 2018 The Lawrence Journal-World. All rights reserved. This material may not be published, broadcast, rewritten or redistributed. We strive to uphold our values for every story published.