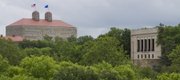 Subscribe to the email edition of Heard on the Hill and we'll deliver you the latest KU news and notes every weekday at noon.
Your daily dose of news, notes and links from around Kansas University.
• A lot of athletic conference moving and shaking has caused KU fans a fair amount of heartburn over the past couple of years (though KU's situation seems much more stable than it had been).
A Chronicle of Higher Education blog posting took a look at the conference realignments in a rather interesting way — from an academic perspective.
Two doctoral students at the University of Georgia were interested in whether switching conferences led to any sort of academic gain for the school.
As it turns out, it just might, according to the students, Dennis A. Kramer II and Michael J. Trivette.
"On average, colleges that moved to a new league saw about a 3 percent decrease in their admit rate (meaning they became more selective) and a 5 percent increase in their admission yield rate (more admitted students enrolled) three years after joining the new conference," the Chronicle wrote. "The ACT scores of incoming students increased by more than .29 points. And the colleges saw a net gain of about 130 applications per year three years after their moves."
One of the biggest jumps came from Boston College, which saw a 37 percent jump in admissions three years after 2005, when it jumped from the Big East to the Atlantic Coast Conference.
• I heard word this week that the KU Surplus Recycling program had collected enough stuff to stack all the way from the floor to the scoreboard in Allen Fieldhouse. I'm not quite sure how they arrived at that conclusion, but I think I'll take them at their word.
Especially because they also say they're closing in on 16,000 items collected overall.
For those not familiar with the program, what happens is these folks pick up reusable furniture and office supplies from all over the Lawrence campus for free.
And then, they resell it back to other departments or donate it to charity.
You can find more on the whole thing here.
• Here's one I missed from earlier in May — a list of all the retiring faculty and unclassified staff from KU.
I think philosophy distinguished professor Richard De George gets the award for longest service to the university among this group, with 53 years working at KU. (He's a pretty good story in his own right, having essentially founded the field of business ethics).
Also retiring this year is Don Worster, a distinguished professor of history, who was one of the pioneering scholars in the field of environmental history.
• I'm not retiring anytime soon, so you can keep sending me your tips for Heard on the Hill to ahyland@ljworld.com.
Copyright 2018 The Lawrence Journal-World. All rights reserved. This material may not be published, broadcast, rewritten or redistributed. We strive to uphold our values for every story published.