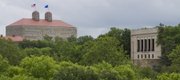 Subscribe to the email edition of Heard on the Hill and we'll deliver you the latest KU news and notes every weekday at noon.
Your daily dose of news, notes and links from around Kansas University.
• A professor and department chairman of sociology has received the Tony Arnold Faculty Research Stipend from KU to further his research into the history of the birth certificate.
The award, for $1,200 will help William Staples, a KU faculty member for 23 years, to continue his research into the social and cultural history of the birth certificate.
Last year, Staples won a Higuchi-KU Endowment Research Achievement award when he earned $10,000 for his research into private surveillance — "everything from surveillance cameras to cash registers," he told me at the time — and social control.
• Today is the anniversary of the D-Day invasion on the beaches of Normandy, and to mark the occasion, Robin Reed, the president of the National D-Day Memorial, will be in Lawrence this week, speaking at the Dole Institute of Politics.
Reed will be joined by Roy Creek, a Lawrence resident and a D-Day veteran, at 7:30 p.m. Thursday at the Dole Institute to provide personal experiences and a remembrance of the day.
If that's not enough for you, fellow reporter George Diepenbrock wrote this excellent story about Creek for the 65th anniversary of D-Day back in 2009.
The Dole Institute, by the way, has a bunch of stuff going on this summer, which you can always check out at their website.
• After a Wall Street Journal story on the topic earlier this week, I'll be taking a look at how colleges are changing their insurance plans they provide for students (which are normally pretty paltry in terms of coverage and require students to pay much, if not all, of the premiums), based on the new federal health care requirements.
There could be some interesting ramifications, and check back later for more on that.
But as part of that story, I might be interested in speaking with a student who has (or had) that kind of student coverage at KU. So if you know of anyone (or are that person), let me know…
• Tony Arnold (probably) won't give you any kind of stipend for it, but I hope you'll find it in your hearts to keep sending me those awesome tips for Heard on the Hill to ahyland@ljworld.com.
Copyright 2018 The Lawrence Journal-World. All rights reserved. This material may not be published, broadcast, rewritten or redistributed. We strive to uphold our values for every story published.