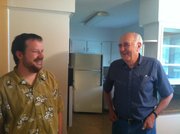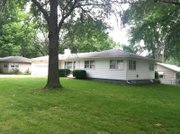 How to help
Hope House is seeking donations to fund utilities and furnish the transitional home. Anyone interested in helping can contact Mary Lois Yates at Hope House, 785-242-4444.
Help one homeless family at a time.
That's the goal of a new transitional housing program in Ottawa, as service providers in Franklin County report an increase in homeless families.
"A week doesn't go by when I don't see people needing housing," said Jake Howard, the Franklin County Human Services Coordinator at ECKAN, who, along with the Ottawa-based nonprofit Hope House, will coordinate services for a short-term transitional housing program for homeless families.
The new program will house one family at a time for up to 90 days. During that time, ECKAN and other area providers will work with the family to secure permanent housing.
Howard talked about the families who come into ECKAN every day, doubled up with relatives or sleeping in cars, as he gave a tour of the site of the new program, a three-bedroom home on Oak Street anonymously donated.
The level of homelessness in rural Franklin County surprises some, Howard said.
"It looks different than an urban homelessness," Howard said. "It's out of sight."
Homeless shelters and nonprofits in Lawrence and across Kansas have reported a rise in families falling into homelessness. In the Ottawa school district, the number of homeless students has increased from 51 in the 2008-2009 school year to 131 this past year, according to Teresa Powers, the district's homeless liaison.
The transitional house in Ottawa has been several years in the making, said Bob Marsh, member of the Franklin County Emergency Transitional Shelter Association, which is helping coordinate the program.
Providers discussed a larger shelter in the area but lacked funding for a building. Then the home was donated a couple months ago, and it steered the group toward the transitional housing program.
Howard said the home should be ready for the first family within a month, and they'd like to see the program grow, possibly with the assistance of others with a house to spare.
"One goal is to inspire others to donate property," he said. "There are a lot of vacant homes out there."
Copyright 2017 The Lawrence Journal-World. All rights reserved. This material may not be published, broadcast, rewritten or redistributed. We strive to uphold our values for every story published.