Wearing a tweed jacket, grey trousers and red bow tie, Charlie Dillon stands in the middle of 10th Street from Massachusetts to New Hampshire streets. Dillon is dressed as the Doctor from the British television show "Doctor Who." And tucked in his inside jacket pocket is a sonic screwdriver, an iconic tool used in the show, which he unveils to give his costume credibility.
"When I heard about this, I thought, 'I have to get the outfit out,'" Dillon said.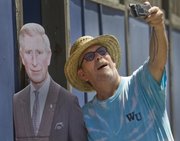 Dillon normally dresses as the Doctor during the Renaissance Festival. But on Saturday, he donned the ensemble to attend the Diamond Jubilee street party, hosted by Brits, 929 Mass., and Queen Lizzy's Fish and Chips, 125 E. 10th St.
The Diamond Jubilee is a celebration honoring Queen Elizabeth II's 60th anniversary as monarch. And Matt Poulton, owner of Lizzy's, thought it would be a great occasion for local merchants to collaborate on an event.
"There are a lot of Anglophiles that live in this area, and there are a lot of expatriates," Poulton said. "We were trying to think of something we could work together on to try to boost our customer base."
So one night over drinks at the Red Lyon eight months ago, Poulton and Sally Helm, owner of Brits, got to talking and decided to throw a party.
The block of 10th Street from Massachusetts to New Hampshire was closed off from 9 a.m. to 4 p.m. for the celebration. There were about 10 English-themed booths lining the block. There were handcrafted jewelry and traditional English street games. The sounds of Celtic music drifted down the street. At one point, a three-person band named Dorian's Wheel performed traditional Irish songs.
"Do you think the Queen would approve of Irish songs at her Diamond Jubilee?" Gwen Bohling, the mother of one of the band members, asked in jest.
"We aren't playing any rebel songs," responded Leslie Jabara, the band's harpist.
The sweet smell of cotton candy wafted through the air as a thin crowd shuffled from one booth to the next. Only a small pack of people came to the street party, but a multitude attended Lizzy's for a traditional British breakfast of English bacon, specialty sausage — apple and cinnamon, blueberry and maple, and tomato and basil — fried or scrambled egg, mushrooms, tomatoes, baked beans, pudding and fried bread.
"It's been absolutely crazy," Poulton said. "We had 53 people in for breakfast. ... I just hope that everyone who comes down today has a fantastic time."
Copyright 2018 The Lawrence Journal-World. All rights reserved. This material may not be published, broadcast, rewritten or redistributed. We strive to uphold our values for every story published.