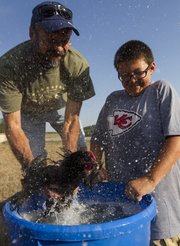 Each July, Pamplona, Spain, hosts the running of the bulls, and the Garzillo family of Baldwin City hosts its own tradition: the washing of the chickens.
For the last 15 years, members of Douglas County 4-H groups have converged upon the family's farm near Pleasant Grove to dunk their chickens in tubs of soapy water and prepare the birds for the Poultry Show at the Douglas County Fair.
"It's a little bit chaotic, but that's half the fun — getting wet and messy," said Charlie Garzillo, who hosted the event. Garzillo, poultry leader for the Clinton Eagles 4-H Club, said the event is a great way for the kids to have fun and learn how to properly care for their birds.
Garzillo's daughter Mary, a junior at Kansas State University, led the chicken-bathing tutorial Saturday evening for the 20 kids and 13 adults in attendance. Mary has experience with chickens. She recently finished judging poultry at the Miami County Fair.
"Slowly dip the chicken down and hold on tight," she said.
Some were better at holding on than others. Nine-year-old Gavin Lang's Rooster Cogburn lost a tail feather in a failed escape attempt. But Cogburn's shenanigans are nothing new, according to Gavin, of Baldwin City.
"He grabbed my leg this morning," he said. Gavin said he had a much better time with his other chicken who just floated in the water.
While the kids bathed and chased the chickens, the adults visited or just observed the spectacle.
"Never in my wildest dreams did I think we'd be washing chickens," Natalie Archer, of Lawrence, said as her daughter cleaned her bird's feathers. The Archer family had previously lived next to the Lincoln Park Zoo in Chicago. "We would hear elephants roar but not this," she said.
The chicken wash provided a learning experience and a decent spectator show, but Garzillo said it began partially out of consideration for those who had to judge the chickens at the fair. Chickens are not clean birds, and fair judges would be covered in dust after handling hundreds of chickens.
"It makes judges want to come back," Garzillo said. "It leaves a good taste in their mouths."
So does fried chicken, which is what the entire group ate after cleaning 34 chickens.
Garzillo said the fried chicken — it was store-bought — had importance besides providing a bit of dark humor.
He explained that 4-H taught children about agriculture and the cycle of life, including death, and where we get our food.
"It had to be chicken," he said. "It wouldn't be fitting if we served anything else."
Copyright 2018 The Lawrence Journal-World. All rights reserved. This material may not be published, broadcast, rewritten or redistributed. We strive to uphold our values for every story published.