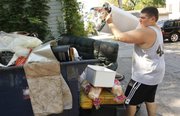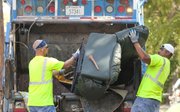 Moving days are here.
With a large student population, Lawrence experiences a great migration about this time every year, with shifts in and out of apartments and homes across the city.
Student or not, though, moving's a pain for anybody, and it produces a lot of waste. Kathy Richardson, waste reduction supervisor with the city, provided some tips for helping reduce, reuse and recycle to decrease stress — for the mover, for the trash collectors and for the planet.
• If your move purges a lot of unwanted stuff from your household collection, consider donating before binning things like clothing, books and even household goods, Richardson said. The Lawrence Public Library, 707 Vt., takes books, CDs, DVDs, tapes and records from 9 a.m. to 9 p.m. weekdays (except Fridays, when it closes at 7 p.m.) and noon to 6 p.m. on weekends. For clothing and household goods, there's a variety of donation options, including Goodwill, 2200 W. 31 St.; the Social Service League, 905 R.I., which is open Wednesday through Saturday; and The Salvation Army at 1601 W. 23rd St. Building materials and working appliances can go to Habitat for Humanity Restore, 708 Conn. Restore can arrange pickups for large items. Nonperishable food items can go to Just Food, 1000 E. 11th St.
• A simple way to reduce what you throw away in a move, Richardson said, is to use packing materials that you're moving anyway, like towels and bedding, rather than purchased or throwaway materials.
• Nonworking electronics should be recycled rather than thrown away and can be taken to several retail stores in Lawrence. More information can be found at lawrenceks.org/wrr/index.php. Paints and other hazardous materials, Richardson said, should be properly disposed by taking them to city facilities. The city's waste department can be reached at 832-3030.
Copyright 2017 The Lawrence Journal-World. All rights reserved. This material may not be published, broadcast, rewritten or redistributed. We strive to uphold our values for every story published.