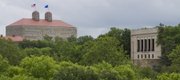 Subscribe to the email edition of Heard on the Hill and we'll deliver you the latest KU news and notes every weekday at noon.
Your daily dose of news, notes and links from around Kansas University.
• Thanks to a Heard on the Hill commenter who alerted me to a rumor that Chick-fil-A would be closing in Wescoe Hall's Underground, but I can report today that it's not true.
Mike Reid, director of public affairs for the Kansas Memorial Unions, told me this week that he was aware of an online petition calling on the unions to dump Chick-fil-A from Wescoe Hall's Underground. This came after recent comments from Dan Cathy, the restaurant chain's president, in opposition to gay marriage (you can Google his name if you're unfamiliar with the flap that's been generating a lot of back-and-forth comments from folks on both sides in my social media circles).
Anyway, Reid told me that while he understood where the people who signed the petition were coming from, the restaurant was under contract with the unions until 2014. He said the unions were looking at the situation, but it was unlikely any change would happen soon.
"We doubt if there would be any change until 2014," he told me.
The online petition was going strong on Wednesday, with 1,175 signatures the last time I checked Wednesday evening.
• I got an initial response back from KU on the open records request I filed earlier about renovations to the chancellor's and provost's offices.
It was pretty standard, and came to me within the required three-day window that public entities have to respond to requests from the public.
No records yet, but it does illustrate one point about records requests: namely, that they can be a little cost-prohibitive for members of the general public.
I asked for records relating to itemized expenses for renovations and remodeling of the two spaces dating back to when the chancellor and provost were hired. That's August 2009 for the chancellor and March 2010 for the provost.
The university, under the law, can charge the person requesting the records for expenses they incur while searching for them.
In this case, they billed me for two hours of business managers' retrieval and review of the records at $65 per hour, and $1.25 for a CD-R. Payment must be made in advance before they will trudge up the records.
These records are technically "open" to the public, but — in practice, at least — there's a big enough fee that will likely prohibit most folks from ever taking a glance at them.
Unless, of course, say, a news-gathering company takes an interest and ponies up the cash. Which we did. So we will be paying $130 worth of a manager's time to dig through the records for us for two hours, and I'll be sure to let you know what comes up.
• The College of Liberal Arts and Sciences has hired Larry Fillian as its new director of undergraduate services.
He will be in charge of the college's Student Academic Services office, which provides academic support for students and departments.
He had most recently served as the director of undergraduate advising and assessment at the George Washington University School of Business.
• No need to file an official request to submit tips for Heard on the Hill. Just send me an email at ahyland@ljworld.com.
Copyright 2018 The Lawrence Journal-World. All rights reserved. This material may not be published, broadcast, rewritten or redistributed. We strive to uphold our values for every story published.