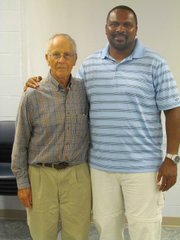 Former Lawrence High football coach Bill Freeman meets for coffee and/or tea and conversation with buddies in LeRoy every morning before heading to the library to catch up on some reading.
Freeman, 81, who stepped down as mayor of the Coffey County town three months ago after 21 years on the job, remains active in retirement despite being diagnosed with early stages of Alzheimer's disease.
"I do have the coming of Alzheimer's. It has slowed me down, but I made my mind up I will do as much as I used to," Freeman said Sunday in a phone conversation.
Remember, the man who led Lawrence High to five Class 6A football titles (1979, 84, 86, 87 and 89, his last season at LHS) and two state track crowns (89, 90), is a survivor of quadruple heart bypass surgery and prostate cancer during his eventful, fulfilling life.
"It's an awful thing. I lost my memory. I can't remember some things," said Freeman, who is on medication that can sap his energy at times. "They don't really have a cure. Every so often I pick up the paper and it says something about Alzheimer's. They have something they think is working."
Freeman, who has some problems recalling numbers, still is able to drive and in fact made the hour-and-change trip to Lawrence by himself about a month ago to watch his son, Jeff, speak at the Dole Center. Jeff Freeman is a lobbyist for the National Rifle Association out of Fairfax, Va. He was in town speaking about that organization.
Bill vows to attend a Lawrence High football game this fall to support his former school and also to check out senior quarterback sensation Brad Strauss.
"I heard he's really good," Freeman said.
Freeman also continues to add to his arrowhead collection and has established scholarship funds in Lawrence, LeRoy, Burlington and Osawatomie.
Still, he's slowing down a bit, evidenced by his voluntarily giving up the mayor's job.
A longtime bank owner in LeRoy, Freeman served as mayor out of civic pride. He was known for placing his mayoral paychecks back into the city coffers, refusing pay for his services. He enjoyed helping run the town but doesn't feel sorry for himself that he thought it necessary to relinquish the post.
"Millions of people are losing their memory, not just one but a lot of people," Freeman said of Alzheimer's victims.
"I'm (living) on the edge," he added with a laugh.
Those who know Freeman from his Lawrence days believe the coach will handle this disease as well as it can be handled.
"Coach Freeman is a fighter. He always has been," said Free State football coach Bob Lisher, who played lineman for Freeman and served as an assistant coach on Freeman's LHS staff.
"He's always taken things straight on. Generally he wins," Lisher added.
Freeman coached NFL players Derrick Jensen and Lynn Dickey at Osawatomie High (Jensen drove all the way from Florida to attend a get-together for his former coach a few weeks ago in LeRoy) and a plethora of standouts at LHS including Keith DeLong, Lance Flachsbarth, Mark Henderson and Jeff Wright.
"(He) is one of the most competive guys I've ever been around," Lisher said. "He has a desire to win like nobody I've ever seen. He would press us as coaches, press the kids to give them success. He's one of the best motivators I've been around. He could turn it off and be one of the greatest guys ever. Ron (Commons, LHS AD) and I would go quail (hunting) with him all the time. During the season he was so intense sometimes it was hard to be around him. After the season you loved being with him."
Freeman said his biggest thrill in coaching was "watching a student or athlete have success ... when they'd come up to me later in life to tell me they were glad I was tough on them. It made me proud. I knew then I'd help make a difference."
Freeman, who was named to the Kansas State High School Activities Association Hall of Fame a few years ago but has not yet been selected for the Kansas Sports Hall of Fame in Wichita, would tell his players that football "is like life. There are many disappointments, but if you have a disappointment you pick yourself up and go on."
He said he has especially fond memories of his 16 seasons as LHS coach.
"Not a day goes by I don't think of something good that happened in Lawrence," Freeman said.
Here's a brief Q and A with Freeman conducted by the Journal-World on Sunday night. ...
Q: What do you think of the Penn State scandal and Joe Paterno's involvement?
A: He ignored things that came up. If he'd gone in and cleaned house and acted on things (that happened), there wouldn't be this (situation). It's really too bad for everybody.
Q: Who are some college coaches you respected?
A: There are a lot of good ones. Lou Holtz was a character. He was a very good coach. Coach Osborne (Tom, Nebraska) was quiet (personality wise). He did a great job at Nebraska.
Q: What do you think of being called a coaching legend?
A: We had great kids and great assistants. Our teams were physical and we won a lot of games. We had a lot of fun. We enjoyed what we were doing. I had my ways. I hope I had something to do with what we did (compile 134-38 record at LHS).
Q: Are you concerned with concussions? Will football be around in 100 years?
A: Yes. But it is a concern. There's something to it. We never had anything in football where people would come back affected by it, which is happening today.
Q: Do you still follow the game of football?
A: I watch pro, but I like high school and college. I've always followed high school and college (more than NFL).
Copyright 2018 The Lawrence Journal-World. All rights reserved. This material may not be published, broadcast, rewritten or redistributed. We strive to uphold our values for every story published.