Aliene Bieber's homemade cherry pie is just what the baking judge ordered.
The sugar-sprinkled crust is golden and flaky throughout, and even the crimped edge is tender enough to cut easily with a flimsy plastic fork. The filling is full of fruit flavor, slightly tart but not sour, and firm enough that a few cherries may fall behind but the slice holds its shape when transferred to a plate.
Food events at the fair
At the Douglas County Fair you can enter food in contests, buy food, eat food and watch professional chefs prepare food.
Here's a list of the fair's open-to-the-public food events, all at the Douglas County Fair Grounds, 2110 Harper St. For contest rules and a map of the fair grounds, download a Douglas County Fair Book at dgcountyfair.com.
Open class food contests
Entries accepted from 2-7 p.m. Monday, July 30. Judging is Tuesday, July 31. Winning entries will remain on display through Saturday, Aug. 4
Categories include various breads, cakes, pies, cookies, jellies, jams and pickles. Ribbons are awarded in each category, with a champion and reserve champion named in food preparation and food preservation.
President's Pie Baking Contest
7:30-9:30 a.m. daily, Tuesday, July 31, through Saturday, Aug. 4, Dreher Building.
Celebrity judges and the Fair Board President will pick three winners from each day's entries. After judging, pies are sliced and sold at the 4-H food stand. At the end of the week, the president picks the top overall winners. The contest only accepts baked fruit and nut pies, pies requiring refrigeration are not allowed.
Food Sale
2-7 p.m. Tuesday, July 31, Building 21.
After judging, open class and 4-H food entries will go up for sale to the public. Proceeds benefit Douglas County 4-H.
Naturally Nutritious Food Festival and Cooking Contest
Wednesday, Aug. 1, Building 21. Entries accepted from 6-7 p.m., with judging at 7 p.m.
Open categories are Fresh Salsa, Creative Cold Salads, International Cuisine, Local Goodness Main Dish (must feature at least four ingredients produced or grown in Kansas), Appetizer or Snack (made with local ingredients) and Healthy Dessert made with fresh fruit. Young Chef Categories, for cooks 12 and younger, are Quick Lunch Idea featuring Local Produce and Healthy Snacks featuring Fresh Fruit. Written recipes required for all categories.
Farmers Market
4-8 p.m. Thursday, Aug. 2, north of Extension Office.
The Cottin's Hardware Farmers Market will move its market from the hardware store to the fairgrounds for one night. More than 30 vendors, including school gardens, are expected to sell local produce and homemade goods. There will be a "produce check" in the Dreher 4-H building, where patrons can leave the produce they purchased while they enjoy the rest of the fair.
Chef's Local Food Challenge
5:30 p.m. Thursday, Aug. 2, north of Extension Office.
Three Lawrence chefs will demonstrate seasonal recipes using food from farmers market vendors. Last year's winner, Free State Brewery chef Russell Iverson, will compete against Dave Nigro of Hy-Vee and Wallace Cochran of the Merc. Judges will select the winner, and samples will be shared with the public, which will pick the winner of the people's choice award.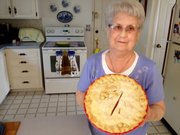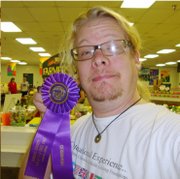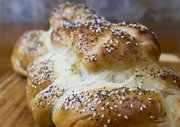 Bieber's pies are legendary at the Douglas County Fair, where she's been entering — and often winning — the open baking contest for decades.
"She is the queen," said fellow baker Katherine Berkowitz, Lawrence. "She has no equal."
For the past few years, Bieber, Berkowitz and Harold Agnew, all Lawrence residents, have repeatedly topped the list of winners in the open contest. Not only do they all love baking, they've also put in a lot of practice.
That shows in their ability to turn out quality baked items year after year, said Susan Johnson, K-State Research and Extension of Douglas County agent for Family and Consumer Sciences, who added that judges are trained in food science, change each year and typically come from outside the county.
This year's open baking competition is coming up next week — entries are due Monday, with judging the following morning.
About 40 people typically enter the contest, each bringing multiple items. But Johnson would like to see that number grow.
"Home-baked, quality items are something that is going to be a lost art if we don't keep up this tradition," she said. "It's a skill to learn how to bake quality products."
•••
Bieber has been practicing more years than most — she's 80, and she's been baking pies since she was about 8.
She grew up on a ranch in western Kansas, where she was the oldest of five siblings. Her mother didn't particularly like baking so she left most of it to Bieber.
"I've been doing it for a long, long time," Bieber said. "I think it's just trial and error."
Bieber said she'd probably enter a pie or two in the President's Pie Baking Contest this year but not the open contest as she has in years past. She's had some health problems, she said, so it depends on how much energy she has.
If not as much as she used to, Bieber still bakes pie for family — her husband, David, is always in the kitchen "looking for a little crumb of something," she said — and for her church, where she used to be the funeral meal coordinator.
Many of the younger ladies turned to box-mix cakes for the grieving families, but Bieber kept up her handmade pies.

"Some people think it's too much work, but I don't," she said. "I love to bake."
•••
Agnew's first foray into bread-baking were a far cry from the basil and chive bagels that won the champion ribbon at last year's fair.
Agnew, a stay-at-home father of two, started baking to pass time between feedings and diaper changing after his first child was born. He baked a lot of quick breads, began to realize he was "going through more butter and sugar than a healthy person should," then decided to try yeast breads instead.
His initial results, he said, were more like adobe bricks than loaves of bread.
Things began looking up after Agnew's wife bought him an explanatory cookbook, Peter Reinhart's "The Bread Baker's Apprentice."
"Once I had the mechanics down and understood more of how things worked, I just kept playing around," Agnew said.
Agnew sold bagels at the farmers market for a couple years but said preparing that many by hand every week began to do a number on his tendons. He now bakes on a more occasional basis.
Agnew has only entered the open foods contest twice. In his first year, 2010, his rosemary onion bagels nabbed a reserve champion ribbon. Last year, those basil and chive bagels took the top prize.
"That was really, really cool," Agnew said, but he doesn't feel pressure to defend his title. He doesn't think he'll enter this year.
"I couldn't think of a flavor that just called out to be entered," he said. "I would rather wait another year and think for months, 'This flavor would be perfect.'"
He is, however, busy helping work on fair projects with his 10-year-old daughter, Parvaneh Karch-Agnew, who has won ribbons for her own baking.
•••
Berkowitz didn't start out great at baking, either.
Berkowitz said that after she and her husband got married, he wanted her to learn to bake bread. She spent a day as an apprentice with a bread-baking friend, then took some sourdough starter home to try on her own. For a month or more, she said, everything she made was flat and "dreadful." Another month or so later, she ran into that friend's husband at the store, and he asked, "By the way, did my wife remember to tell you that starter was dead?"
Berkowitz said she bought a yeast bread cookbook and "never looked back."
She bakes almost every Friday and Sunday for her own household and some family and friends. She's entered the fair's open foods contest more than 20 years, specializing in breads and cakes. Winning is nice — her whole wheat bread won reserve champion last year, and she's even won the state fair's sweepstakes for cakes — but she said she most enjoys the camaraderie of other home cooks who participate.
"If it's about the competition — and that's all it is — then that's not fun," she said.
Berkowitz also enjoys sharing her skills with others.
She teaches baking classes at a Hy-Vee in Topeka, where she tells students, "Everybody can do this."
After her last bread class, Berkowitz got a note in the mail from a woman who said she took what she'd learned, went home and baked a loaf of challah for her husband.
"She just felt so empowered that she could do this," Berkowitz said, "and that made me feel wonderful."
Berkowitz said her top baking tips are to read the recipe thoroughly, use good fresh ingredients and enjoy what you're doing.
"If you don't enjoy what you're doing, she said, "it's going to show up in how it turns out."
Copyright 2018 The Lawrence Journal-World. All rights reserved. This material may not be published, broadcast, rewritten or redistributed. We strive to uphold our values for every story published.