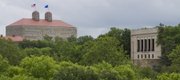 Subscribe to the email edition of Heard on the Hill and we'll deliver you the latest KU news and notes every weekday at noon.
Your daily dose of news, notes and links from around Kansas University.
• The Securities and Exchange Commission announced last week that Huron Consulting Group, the folks that spearheaded KU's efficiency review dubbed "Changing for Excellence," will pay $1 million in fines for a 2009 accounting scandal, according to the Chicago Tribune.
KU leaders were aware of the scandal when they hired the group and were satisfied that the new management that was in place was moving beyond the nastiness that got the company in trouble in the first place.
The Tribune said the company got in trouble by overstating pretax income from 2005 to early 2009 "by failing to account for costs connected with its acquisitions of four firms as compensation expenses."
Former Huron employees also paid cash settlements associated with the settlement, but none of the defendants admitted or denied wrongdoing, the newspaper reported.
• I got a few good suggestions on Friday for an open records request I could file with KU, but the one I eventually dealt with involves remodeling done to the provost's and chancellor's offices.
This is a good thing to check up on every now and again. Sometimes it can be interesting, and sometimes it won't be, depending on what's been done in that area. But it's always good for reporters (and the public) to know what kinds of attention those two places have been getting compared with the rest of the university.
I'll let you know what I find out. Isn't democracy grand?
• And speaking of that post on Friday, I had initially thought about asking for grade distributions of KU professors, but an alert reader pointed out to me that these distributions are already pretty widely available online for free (though you may need to create an account in many cases).
Companies make requests just like I had thought about doing and put all that stuff up online.
My alert reader showed me KU's list at myedu.com, and it did seem to have information broken down by grades in specific courses and grades given by specific instructors. Though it did not, as far as I could tell, break down specific sections of classes taught. Therefore, you could see a breakdown of all the grades a political science professor, say, had issued in the previous semester, along with all the grades students taking an introductory course in American government received. But you couldn't see how each individual instructor graded the course (at least, I couldn't figure it out in the brief amount of time I spent on the site).
• You know what's almost as grand as democracy? Awesome tips for Heard on the Hill sent to me at ahyland@ljworld.com.
Copyright 2018 The Lawrence Journal-World. All rights reserved. This material may not be published, broadcast, rewritten or redistributed. We strive to uphold our values for every story published.