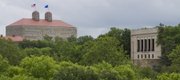 Subscribe to the email edition of Heard on the Hill and we'll deliver you the latest KU news and notes every weekday at noon.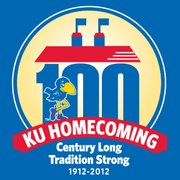 Your daily dose of news, notes and links from around Kansas University.
• The fine folks in charge of KU's 100th Homecoming ceremonies unveiled their new logo for this year's activities on Thursday, so I figured I'd go ahead and show you, too.
It features the 1912 version of the Jayhawk standing in front of Fraser Hall, and includes the theme "Century Long, Tradition Strong."
Homecoming this year will be from Oct. 21-27, ending in a football game against the University of Texas that KU will surely win (right?).
Well, regardless of whether KU wins the football game, the Homecoming stuff will march on, including the parade, which is moving to Friday night this year, at 6 p.m. Oct. 26 down Jayhawk Boulevard.
Too many 11 a.m. kickoffs for those parade planners coming down the chute these days, I'd wager, which make for really early Saturday parades.
• KU has hired attorney Jane McQueeny, who most recently worked for the U.S. Office of Civil Rights in Kansas City, to serve as its first director of institutional opportunity and access.
So what might a director of institutional opportunity and access do, you might ask?
This new office will serve all KU campuses and will be responsible for equal employment opportunity, the Americans with Disabilities Act, affirmative action and some other functions previously taken care of in KU's Department of Human Resources.
McQueeny has also worked as the chief trial attorney for the Jackson County prosecutor's office in Kansas City, Mo.
• Fellow reporter Shaun Hittle (who only occasionally reads Heard on the Hill all the way through) is a big fan of "FOIA Friday," where reporters pick a topic and make an open records request for data.
"FOIA" is actually a bit of a misnomer in this case, because the federal Freedom of Information Act (or FOIA) only covers federal agencies, so we'd be using the Kansas Open Records Act.
He's convinced me to participate in the game today, so I figured I'd check with the faithful and brilliant readers of this post to see if there's anything you'd like to see me request from KU.
I've got a few ideas, of course, so let me throw one out for you to beat. I've often thought about requesting the grade distributions for one semester's worth of classes from KU (while complying, of course, with federal privacy laws). I don't know that I'd want to make the whole bunch of data public, but I think there would certainly be some interesting trends or potential stories in there, for sure.
In lots of the coverage of the Pennsylvania State University football scandal, I've seen multiple suggestions that making the university comply with open records laws would have helped with the institution's transparency issues. But open records laws are only good if people use them. So let me know what's on your mind, and we'll see if we can file something.
• I'm feeling kind of sad because Jan Akers didn't respond to my request for a tip yesterday, so all of you are going to have to pick up her slack and send me a tip at ahyland@ljworld.com.
Copyright 2018 The Lawrence Journal-World. All rights reserved. This material may not be published, broadcast, rewritten or redistributed. We strive to uphold our values for every story published.