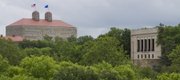 Subscribe to the email edition of Heard on the Hill and we'll deliver you the latest KU news and notes every weekday at noon.
Your daily dose of news, notes and links from around Kansas University.
• Sigma Alpha Epsilon fraternity is making news again on the national scene, and not in a good way.
The chapter at the University of California-Davis has been removed from campus for an indefinite period, according to the Modesto Bee.
The chapter supplied alcohol to students at a January event and again at a party in February, the newspaper reported, but it was on probation after a string of several incidents.
The same fraternity was the one involved in the alcohol-related death of Jason Wren in 2009 at KU, and the newspaper listed several other incidents the fraternity had been involved with as well, including the death of a student at Cornell University in 2011; the death of a student at California Polytechnic State University, San Luis Obispo, in 2008; and a hazing death at the University of Texas in 2006.
KU investigated the fraternity after the incident, but did not impose official sanctions. A lawsuit in the case eventually ended in a settlement, the terms of which were not disclosed.
"Everything we were able to learn about that night at SAE was that there was no official function going on," then-vice provost Marlesa Roney told the University Daily Kansan last year. "It was just an individual or two, sitting around drinking."
• KU officials are traipsing around the state this summer ("traipse" has definitely got to be one of my favorite verbs, and I try to work it in wherever I can. UPDATE: As one of our LJWorld.com commenters pointed out below, I clearly need to bust out the dictionary a little more often to make sure my favorite words mean what I think they mean!), and this story from the Fort Scott Tribune helps us back at home base see what KU is hawking across the state.
Tim Caboni chose to talk to the paper about KU's new admissions standards, while also mentioning KU's highly ranked city management and special education programs, along with its five national championships in debate.
It's always interesting to me to see how folks sell KU to people in other parts of the state, especially the farther west you get.
• New KU research shows that a larger resting pupil size and higher levels of a salivary enzyme may be markers for autism spectrum disorders.
"Many theories of autism propose that the disorder is due to deficits in higher-order brain areas," John Colombo, a KU professor of psychology, told the news service for Psych Central, an online mental health and psychology network. "Our findings, however, suggest that the core deficits may lie in areas of the brain typically associated with more fundamental, vital functions."
You can find more information at the full article.
• I hope with all that traipsing you're doing over the summer, you'll find some time to drop me a tip or two for Heard on the Hill at ahyland@ljworld.com.
Copyright 2018 The Lawrence Journal-World. All rights reserved. This material may not be published, broadcast, rewritten or redistributed. We strive to uphold our values for every story published.