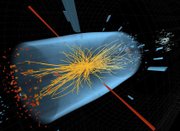 As physicists and other scientists around the planet heralded news of the possible discovery of a long-sought subatomic particle, researchers at Kansas University are continuing to contribute to that research along with other projects at the Large Hadron Collider in Switzerland.
Alice Bean, a KU professor of physics, leads a team of KU researchers at CERN, the European Organization for Nuclear Research. She said in a telephone interview from Switzerland that about 30 KU physicists — including faculty members, postdoctoral researchers, graduate students and undergraduates — are contributing to research that helped bring about the recent announcement that scientists may have located the elusive Higgs boson.
That particle that has the potential to tie together scientists' understanding of the physical world by explaining why particles contain mass.
Bean said she and other scientists bristle when the Higgs boson is called the "God particle," as it has "nothing to do with religion or anything else." The research is still continuing, however, and will continue regardless of the results of the data related to the Higgs boson. Bean said the researchers from around the world at the Large Hadron Collider are only one-fiftieth of the way through their proposed research.
KU researchers have worked on multiple projects associated with the research, including helping to develop and monitor a detector that monitors what happens after particles collide, tracking the whole bunch of particles that come spraying out in all directions.
Lots of other technologies have come from the physicists' global collaboration, too, Bean said. The World Wide Web was developed at CERN, along with magnets used in MRI devices at hospitals.
Professors and students alike said they were proud to be associated with the effort.
"Happy Higgs Dependence Day," KU student Calvert Pfannenstiel tweeted from Switzerland on July 4, the day the announcement about the new particle was made.
Philip Baringer, a professor of physics, said KU joined the experiment team in 2000. He said the recent developments are "fantastic."
"This is physics I've been hoping to do since I was a student first learning about these things," said Baringer, who earned his doctorate in 1985.
The original Higgs boson theory was well-known about 20 years before he went to graduate school, Baringer said, so it's been a long time coming.
KU also has high school students helping with the effort in laboratories in Lawrence, including Bishop Seabury Academy's Eilish Gibson.
"I find it extremely exciting just to be able to be a part of something that's so big and breaking new ground on the very edge of what we know," said Gibson, who is helping to enter data into a computer program that creates graphs to help researchers better understand it.
The scientists in Switzerland still are working to gather more data to determine whether the new particle is a Higgs boson, but Bean said she personally hopes it isn't.
"That would mean physicists don't know what's going on and there's something really crazy going on," she said.
— Higher education reporter Andy Hyland can be reached at 832-6388. Follow him at Twitter.com/LJW_KU.
Copyright 2018 The Lawrence Journal-World. All rights reserved. This material may not be published, broadcast, rewritten or redistributed. We strive to uphold our values for every story published.