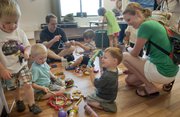 Lawrence parents and children filled Lawrence Montessori School, 5005 Legends Drive, Saturday, not for a regular school day but to enjoy a kids fair hosted by the school.
"It's just been so hot, so it's a nice alternative to giving children fun activities to do indoors and to expose them to a variety of activities," said Purviz Birdie, head of Lawrence Montessori School.
The fair started with a concert by Rockin' Rob, which was followed by a cooking demonstration by Montessori School Chef Conor Brown and a free lunch of pasta, pesto and fruit salad. Ongoing activities throughout the day included tumbling and open gym with Lawrence Gymnastics Academy, taekwondo from ATA Prime Martial Art, face painting by Bee Creative Studio, music activities with Meadowlark Music and Jubilee Music and a chemistry demonstration by Mad Chemistry and the Kansas University physics department. There was also a raffle drawing and tours of the school for parents interested in enrolling their children there.
"There's not a lot of things like this on a Saturday or Sunday," Danielle Sanger, a parent at the fair, said.
Sanger has two children who went through preschool with Birdie and strongly believes in the programs and the mission of the Lawrence Montessori School.
"An event like this gives people a chance to bring their kids and see what the Montessori school (has to offer)," Sanger said.
The Lawrence Montessori School opened in 2010 for children ages three months to 6 years old, and its purpose is to nurture the students' intellect and spirit.
"We want to instill a love of learning in young children and make sure we're providing a variety of enriching experiences in addition to excelling in academics," Birdie said.
Parendi Birdie, assistant head of Lawrence Montessori School, said she expected about 300 guests to attend and was pleased when more than 350 stopped by the free event.
"It really shows what a need there is in the community and how invested the community is in their children and their children's futures," Parendi said.
Copyright 2018 The Lawrence Journal-World. All rights reserved. This material may not be published, broadcast, rewritten or redistributed. We strive to uphold our values for every story published.